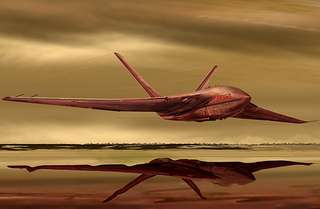 NASA has announced the selection of the TitanAir project imagined by Quinn Morley of Planet Enterprises, as part of a program to support cutting-edge technological innovations. The concept is to send a low-cost seaplane drone into Titan's atmosphere.
The project was selected for the first phase of the NIAC program (Nasa Innovative Advanced Concepts) among other futuristic projects such as a lunar pipeline or a nuclear thruster. The NIAC program encourages visionaries to think about cutting-edge technologies that could be used later, for distant exploration missions for example.
Atmospheric and lake samples
The TitanAir project proposed by Quinn Morley of Planet Enterprises proposes a seaplane that could make daily flights in the sky of Titan, and be able to land in hydrocarbon lakes. The idea is to collect the complex organic molecules suspended in the air and captured during the condensation of atmospheric methane. Sample capture could be done via vents located in the wings of the drone and they would be studied with on-board instruments.
Of course, the device would also analyze samples taken from the lakes where it would land. Quinn Morley initially proposes to carry out initial feasibility experiments within the framework of the NIAC program.
Titan: top trendy destination!
The moon Titan is the largest moon of Saturn, it is even larger than Mercury. Titan is also unique in the entire Solar System, being the only star (besides Earth) to have lakes and seas. Admittedly, it is not water but hydrocarbons which are in the liquid state on the surface, but it remains a potential environment where a form of elementary life could develop.
Titan has already had visitors in the past. On January 14, 2005, the European lander Huygens, carried by the NASA Cassini probe, landed on the surface and took measurements on site for a few hours before ceasing to transmit. It was the only time we could see the surface of Titan, hidden behind the very thick atmosphere of the moon. For its part, NASA plans to send the Dragonfly helicopter drone to Titan in 2027.