Bitcoin (BTC), in light of bull scenarios and emerging market conditions, The fear and greed index reached its highest level in a year.
Contact us to be instantly informed about the last minute developments.
Twitter
ve
Telegram
You can follow our channel.
The cryptocurrency market has been on the rise since the first day of the new year. BTC, which fell to the level of 15 thousand dollars, managed to break all the fear and panic situation. The bull rhetoric of crypto investors has once again dominated the market. Although it is claimed that this rise is a bull trap, the markets have switched to greed. Bitcoin fear and greed index has reached its highest point in a year.
Bitcoin at Greed Level
Bitcoin (BTC) remains active with an alleged bullish scenario as a bull start. This marked a record high in the fear and greed index for Bitcoin.
The leading cryptocurrency has reached the level of 61 on the fear and greed index. As of February 1, 2022, markets have escalated greed.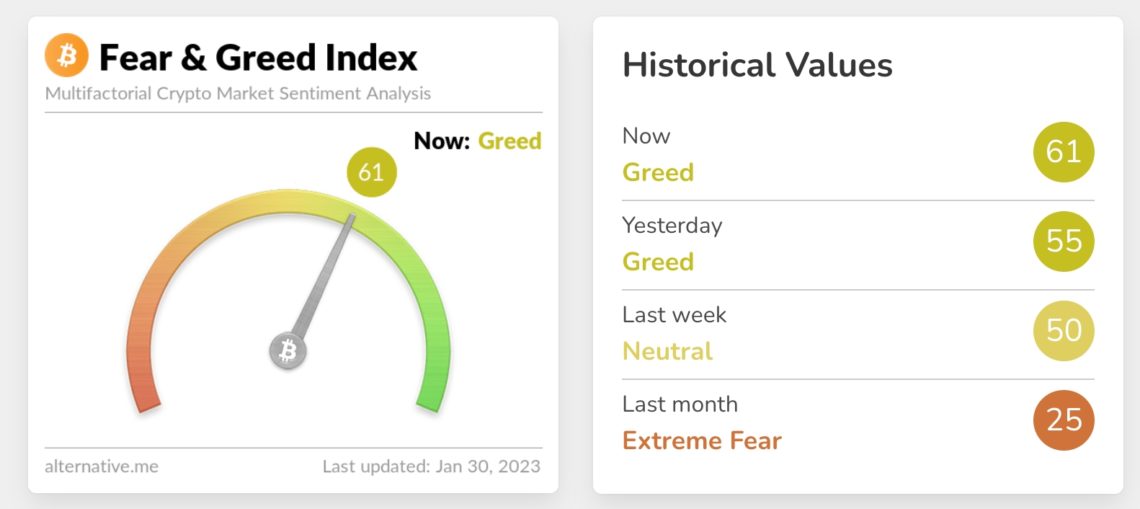 BTC, which spent the last month in extreme fear levels, enters February at the heights of greed. This situation reveals that the investors entering the market are greedy.
Bitcoin Chart Analysis
Bitcoin (BTC), started the week in which the US interest rate decision will be clarified, maintaining its upward trend. BTC, which moved at the level of $ 23,190, also managed to increase the bull expectations.

The activity on the BTC side continues. However, almost half of the market considers this rise as a bull trap. In the week when the Fed's interest rate decision will be announced, the possibility of a correction on the BTC side is on the table.
In this case, BTC continues to move towards the resistance level at the $25,000 level. Trying this resistance point can also mean the beginning of the correction. If BTC corrects from the $25,000 level, its target could be the $21,331 support.
If the severity of the correction becomes stronger, the trend direction can be expected to change as well. In this case, BTC may tend to approach the $19,000 level.
However, if the market turns bullish, the $32,000 level is on the table as the strongest resistance point. If $25,000 is passed, this could be the next target for BTC.