The crypto-focused flirting of Elon Musk, McDonald's and Binance trio on Twitter drew attention.
Contact us to be instantly informed about the last minute developments.
Twitter
ve
Telegram
You can follow our channel.
Nowadays, when the crypto money market is green and moving in an upward trend, the importance of news in the crypto industry is increasing. Crypto investors are eagerly awaiting possible news that will ignite the bull run in the industry. Similar situations were experienced in previous bull seasons. In these market conditions, the triangle of McDonald's, Elon Musk and Binance attracted attention.
Crypto Dialogue Between McDonald's, Elon Musk and Binance!
Earlier in the day, a crypto conversation took place on Twitter between McDonald's, Elon Musk and Binance.
Global food giant McDonald's tweeted "what did I miss" on Twitter. A very interesting response came from Binance to this sharing of the food giant. The Binance social media account responded with "a lot of green candles".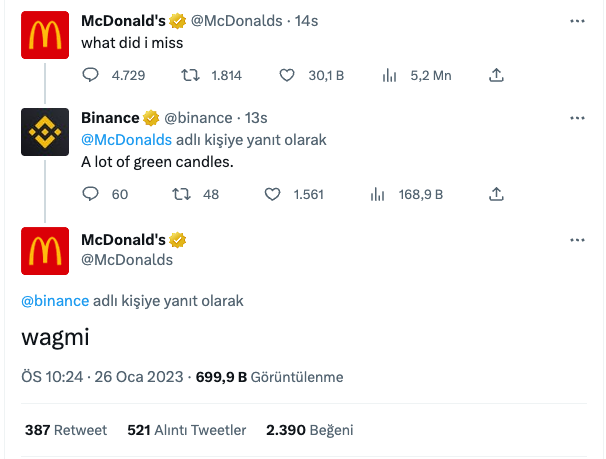 McDonald's responded to Binance's response with the word "wagmi," which is dominated by the crypto industry. Wagmi is known as an abbreviation for the phrase "we are all going to make it". This sentence means that we will all succeed.
What inflamed this flirting was Elon Musk's involvement in flirting. Musk responded with "oh hello" to the conversation started by McDonald's.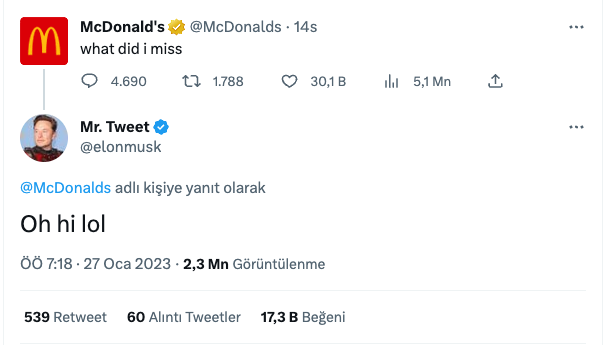 Crypto investors have created an expectation on Dogecoin, including Musk.