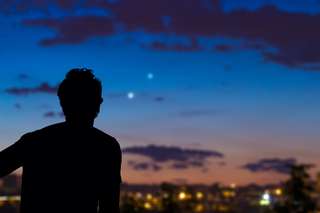 This weekend, once again, the sky will give us a beautiful show. The conjunctionconjunction of VenusVenusnicknamed theEvening StarEvening Starand of SaturnSaturn, the ringed planet. It's on the side of the Capricorn ConstellationCapricorn Constellationheading southwest and a little above the horizon, this Sunday, January 22, 2023 at duskdusk that the meeting will take place. And with a very bright Venus — the brightest point in the sky right now — and a Saturn whose magnitudemagnitude will be less than 1. The show will be visible ateyeeye naked. For those who take care to observe the sky before 7:30 p.m., when the two planets will set.
Note that in the field of a telescopetelescope, however, the conjunction will allow to admire at the same time, the two planets of our Solar System. Because they will then be separated – in appearance at least – by about 25 minutes d'arcminutes d'arc only. This is less than the diameter of the Moon.
If cloudsclouds make you miss the appointment, you can still admire it online, thanks to the live broadcast offered in particular by the Virtual Telescope Project. The broadcast begins this Sunday at 5:00 p.m. Paris time.
And if the weather reportweather report becomes more lenient the next day, you can enjoy an apparent rapprochement of Saturn and Venus, with a LuneLune only two days. Similarities still visible to the naked eye. Like the day before, it will be a question of observing the sky around 6:30 p.m. to enjoy the show.