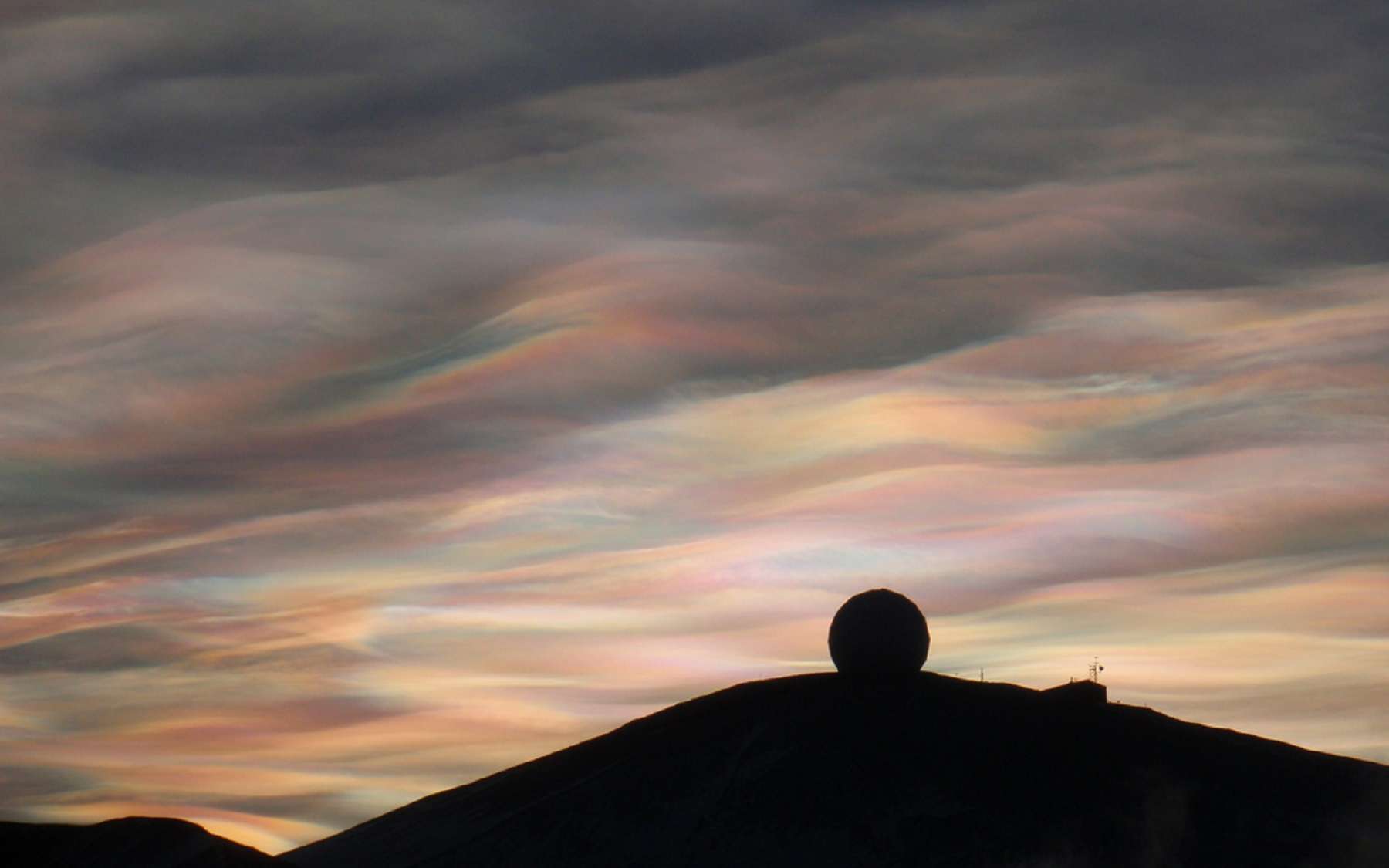 In the most northerly regions of the world, beautiful pearly-colored clouds are seen in winter on rare occasions. These are polar stratospheric clouds, a weather phenomenon as beautiful as it is polluting!
Also called pearly clouds, polar stratospheric clouds (PSC) are identifiable by their appearance as pastel-colored, iridescent waves. As their name suggests, these clouds form in the stratosphere, between 18 and 25 km, sometimes up to 30 km in altitude.
They appear only when the sun begins to drop below the horizon. At this altitude, it still shines very brightly whereas, for the observer on the ground, the sun is already 1°C below the horizon when it sets. The other clouds, those in the lower layers of the atmosphere, are already in darkness and can therefore no longer reflect the diffused light: this would mask the pearly clouds.
A still little known training process
Polar stratospheric clouds are a very different phenomenon from noctilucent clouds, which occur above 80 km altitude, and also distinct from the aurora borealis which occur between 100 and 150 km altitude. Polar clouds are composed of a mixture of nitric acid and ice crystals: between 20 and 30 km altitude, temperatures are between -40 and -80°C. Polar clouds therefore contain mainly ice crystals and not supercooled droplets, like many other more classic clouds. Thanks to the intensity of sunlight, the higher they are, the more colorful they are. Their base color is white, with other pearls that sparkle on top.
The exact reasons for their formation remain poorly known and are still subject to several hypotheses: it would seem that these manifestations are often linked to strong currents at altitude above high mountain peaks. This perpendicular wind would then manage to rise up to about twenty kilometers in altitude and would result in the formation of cloudy waves at very high altitude. Their formation process would in this case be quite similar to lenticular clouds, which are however lower. If these polar cloud waves occur at the right time of day, at dawn or dusk, then the sun's rays strike at the right angle, and so the famous pearly colors occur.
Polluting clouds that aggravate the hole in the ozone layer
The phenomenon remains rare, with a maximum chance of seeing them in December or early January. They have mainly been observed in Norway, Finland, Sweden, Scotland, Arctic, Antarctica and Alaska during a westerly or northwesterly wind. But they are possible elsewhere, and some have already observed them in tropical regions!
Their composition contributes to the production of chlorine atoms, which aggravate the hole in the ozone layer: it is around this that we most often observe pearly clouds. A single chlorine atom is capable of destroying 100,000 ozone molecules. Those beautiful clouds that many photographers would love to capture have, in fact, a negative impact on the environment.
According to NASA, these polar clouds are increasingly present over the Arctic, because the upper layers of the atmosphere in this region have been colder in recent years than in the past. Therefore, polar clouds could be observed not only in winter, but also during spring.
(embed)https://www.youtube.com/watch?v=GVCaxb_AT8w(/embed)
Polar clouds filmed in Norway in January 2023. © Night Lights Films