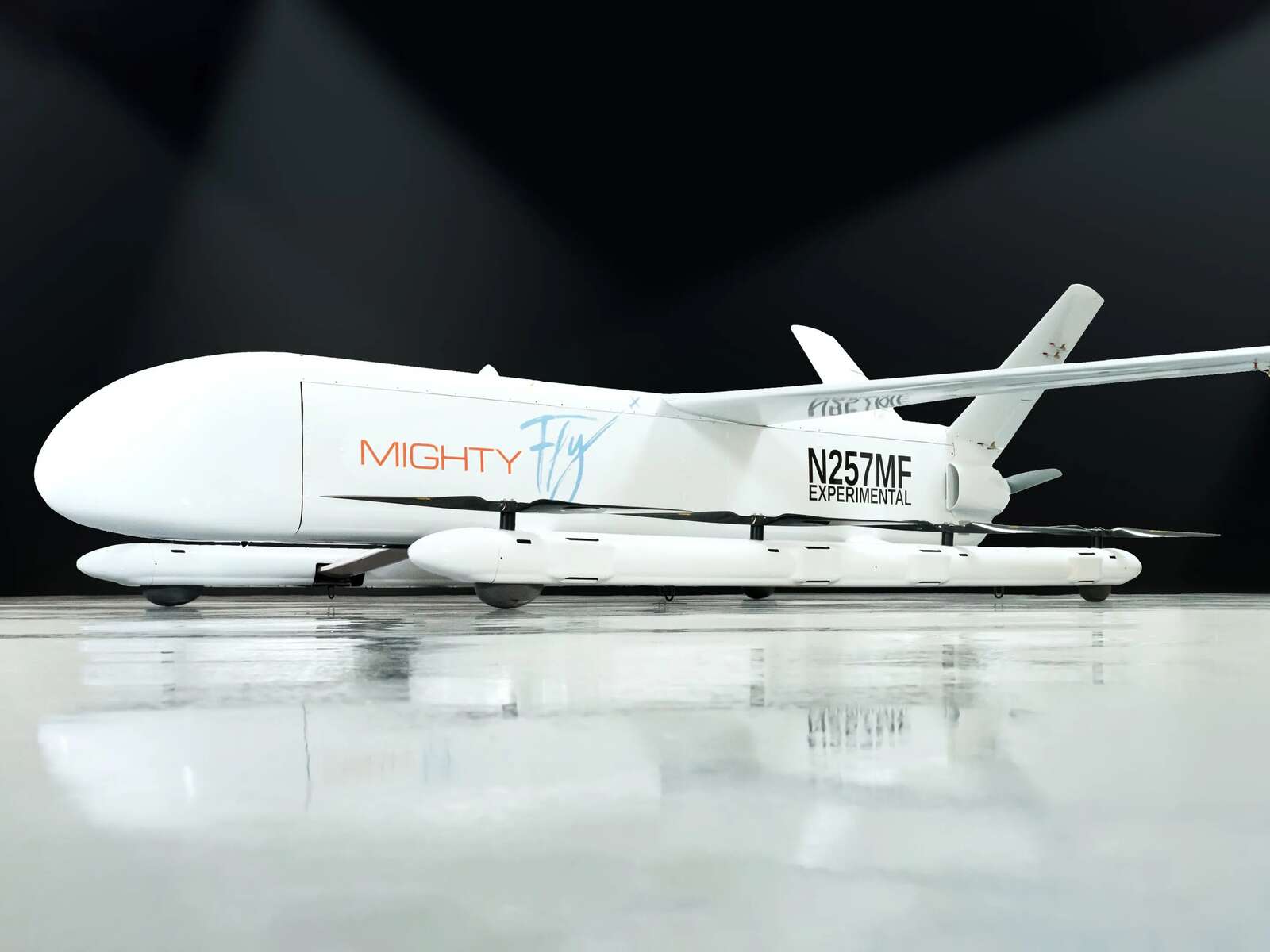 MightyFly's Cento drone is capable of transporting nearly a hundred packages over a distance of 1,000 km. A faster and more environmentally friendly means of transport than a car or van.
We are in 2023, and, no offense to Amazon, the advent of delivery drones has still not arrived. There are certainly many obstacles, particularly in terms of the safety of these flights in inhabited areas over short distances. Before seeing this new way of making a parcel travel the last km, it is perhaps at the level of long-distance journeys that drones will become interesting.
Thus, in the United States, MightyFly seeks to obtain the agreement of the aviation regulatory authorities, the FAA, to fly a cargo drone over very long distances. Called Cento, it is capable of carrying up to 96 small packages for a maximum weight of 45 kg over a theoretical range of nearly 1,000 km. The aircraft is small (4 m by 5 m), since it only needs the equivalent of two parking spaces to take off, land and automatically unload the on-board packages.
(embed)https://www.youtube.com/watch?v=5iHL8qp9ZEs(/embed)
Demonstration video of the cargo drone. © MightyFly
Better than vans
The cell that acts as a hold is made of carbon fiber and weighs a total of 161 kg with a full load. The drone has a large, thin wing, a V-tail. On each side of the cargo ship, two skid-like modules each support four electric motors. They are used to keep the drone in the air and to perform vertical take-off and landing maneuvers.
At the required altitude, a larger propeller motor, placed at the rear, pushes the drone to reach a maximum speed of 240 km/h. To cover its 1,000 km range, the aircraft does not rely solely on its battery to drive its electric motor. A heat engine is also present. It acts as a generator to supply energy to all the electric motors via the batteries.
When the drone has landed, it automatically deploys a conveyor belt to unload its cargo or load a new one. For the moment, the Cento has been flight tested since December. The FAA has also authorized it to carry out long-distance tests in a square of almost 600 km, with an altitude ceiling of 1,500 meters. The company wants to extend this distance to 1,000 km in tests. MightyFly is also developing another cargo drone that could carry up to 227 kg of payload.