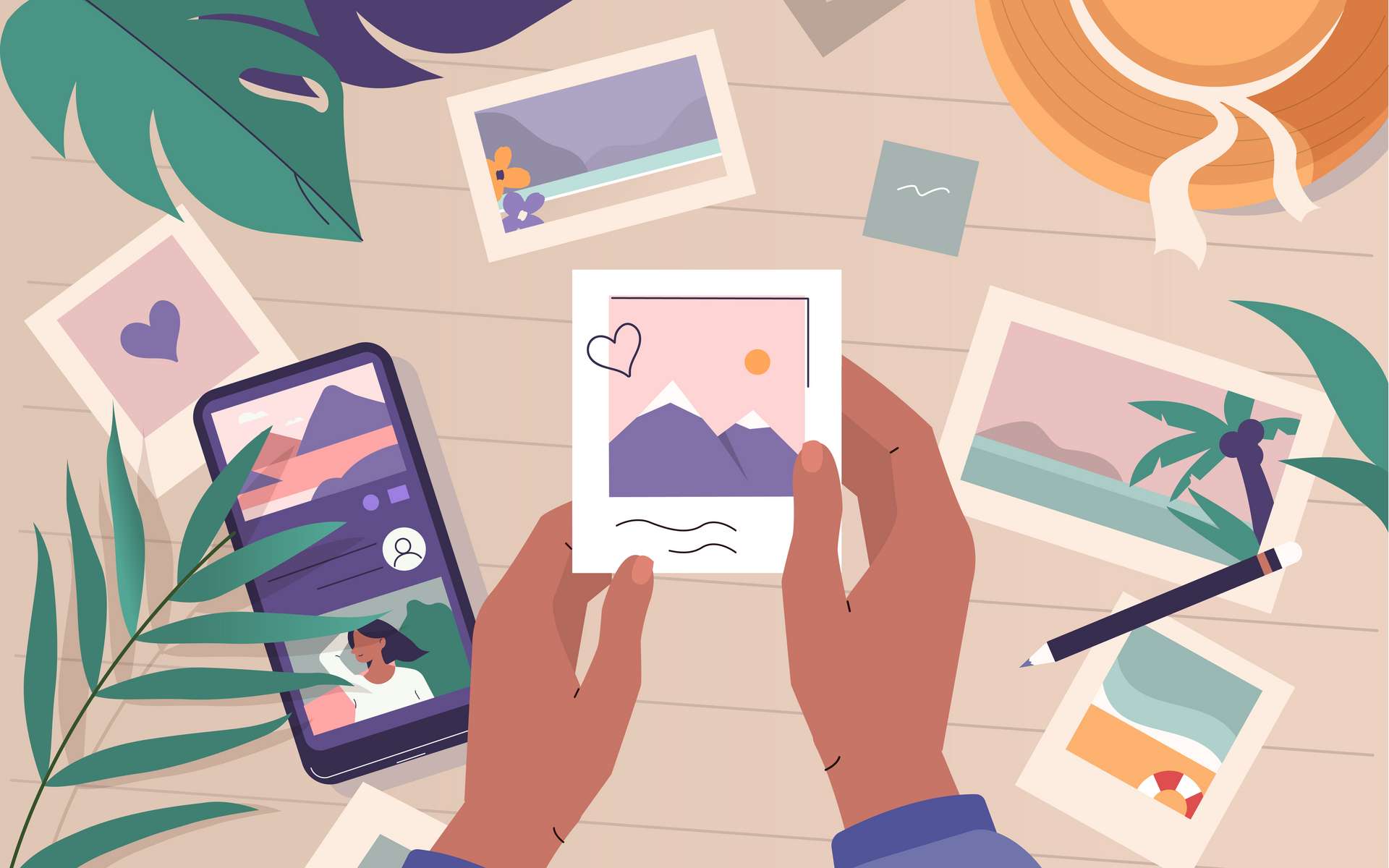 From social media to smart photo journals on our smartphones, we've never had so many tools to save what we experience every day. German researchers investigated in order to detect the impact of these new technological functionalities on our autobiographical memory.
Almost everyone has experienced the huge family photo albums. We could spend evenings watching them when we visited our grandparents. But they have become less and less present over time and have been almost unanimously replaced by our smartphones. In addition to the modification of the support, we have also seen the emergence of intelligent applications that allow us to classify, annotate or even comment on our memories. In a recent study published in Applied Cognitive PsychologyGerman researchers are wondering about the consequences of these applications on our autobiographical memory.
A millennial need
There is really nothing surprising in the advent of these technologies. Indeed, using an external support to overcome the limits of our different memories is a very old practice, probably as much as prehistoric paintings. This makes it possible to free ourselves from our neural networks alone and to increase the capacity for storing information. Nevertheless, today's computing and technological tools have far exceeded the capabilities of their predecessors such as writing. This new perspective has caused a lot of ink to flow, especially on whether such tools would give rise to a utopian or dystopian society.
Utopia or dystopia?
Several authors have imagined worlds where technology would allow us to recall all our memories at all times, both from a factual (semantic memory) and contextual (episodic memory) point of view. This vision can be viewed in two radically different ways. Either as a godsend for humanity where our tools will be able to compensate for several memory "defects": low storage capacity, inclination for certain biases or distortions, reduce cognitive load, be able to search for information in our memory and obtain it quickly, etc. . However, we immediately feel that this world would not only have advantages. Indeed, forgetting or remodeling a memory are essential functions of our memory for our mental health. Episode 3 of season 1 of the series Black Mirror Back to image explores the consequences of such a society in an extremely dystopian version.
Assistive technologies
Other researchers such as Sellen and Whittaker consider that the objective of new technologies is not to replace our memory but to serve as an assistant in specific situations. Based on this idea, they suggested that technologies would be useful as an assistant in at least five memory activities: collecting (remembering in detail an evening spent with friends), reminiscence (emotionally reliving this evening spent between friends), research (remembering the restaurant in which we dined during this evening), introspection (trying to represent this evening in a more abstract way to draw certain conclusions) and forecasting (remembering that we has an appointment scheduled today and that you have to go). We therefore note that our episodic, autobiographical, semantic and prospective memories are the subject of these different activities.
What are the consequences for our memory?
The researchers carried out two studies. The first focused on individuals who had never used this type of application to whom the researchers suggested using them for 15 days, while the second evaluated people who use them daily. Using the method of semi-structured interviews, the investigators wanted to obtain information about habits of use, perceived effects on memory and potential opportunities and risks of these applications by the participants.
The main results that emerge from these two surveys are as follows. First of all, functions are clearly favored by the participants within the wide range offered by the applications. Most store their photos, comment on them, activate localization and record voice memos (for this last function, many of them no longer use it after the fact). Likewise, the reasons for use are extremely diverse. Next, there are differences in recorded and unrecorded content. Important aspects of life, events and social interactions are much more recorded than everyday or intimate events. Likewise, the valence of memories is important: the majority of participants do not register the negative things that happened in their day. This highlights the assistant function of these applications: individuals control what they want to store and how they want to store it.
Concerning the memory activities mentioned above, the participants mainly use the application for collection in order to remember in detail previous events and reminiscence in order to relive events, most of the time happy moments. To a lesser extent, some use the application for introspection by asking themselves, for example, how they felt during an event and what it tells them about themselves. Among people who have used the application for a long time, many use it for comparison purposes, to measure their progress (especially the participants in study 2, who use these applications on a daily basis). Research is generally little used by participants. Only one participant mentioned using the app to remember the name of a cocktail.
The majority of participants appreciate these applications in that they serve as easily usable external memory and more practical than a piece of paper. The social function (being able to share memories with others mainly) is also one of the great advantages described. Similarly, being able to immerse oneself intensely in a past moment or being able to reanalyze it and learn from it are characteristics mentioned by the participants. On the side of the perceived risks, we note the protection of privacy which constantly comes up (this is moreover why few participants record intimate events), the negative comparison (typically, noticing that we have regressed on a given time frame), difficulty forgetting (as we said, forgetting is absolutely necessary to maintain good mental health), spending more time on the phone, fear of losing recorded data and the devaluation of the present moment. We see that these tools have many impacts on the way we manage our memories and on the way we remember events. Nevertheless, we still seem far from a dystopian vision and the authors conclude by suggesting that it is better to focus on the study of the unknown effects that new technologies have on our autobiographical memory.