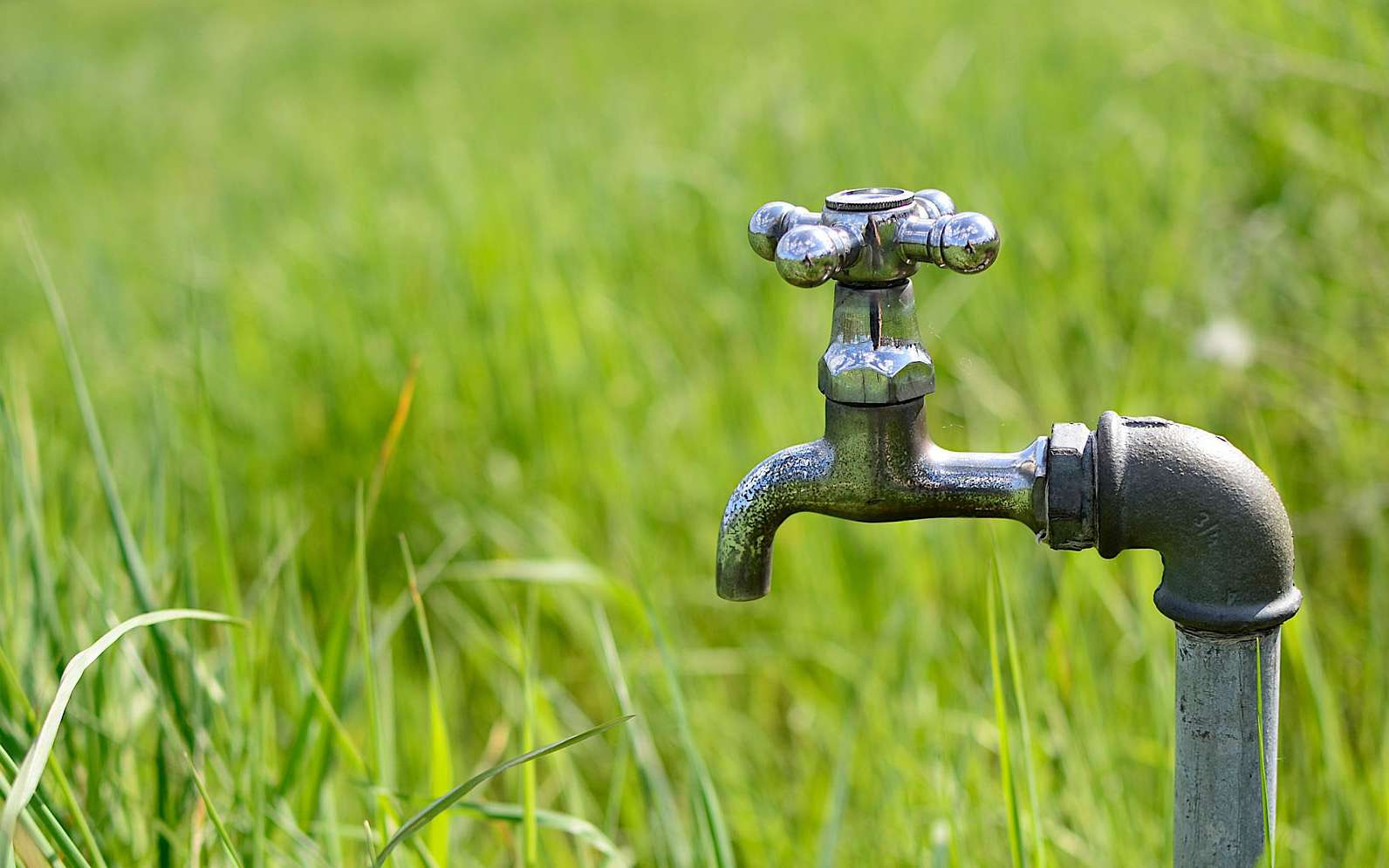 France is not in the process of desertification! And she's not close to being. It welcomes, over nearly 1,000 km, from Dunkirk to Hendaye, the clouds swollen with humidity which are pushed from the Atlantic by the prevailing westerly winds and cross France more or less quietly, as everyone can see. looking at the weather: the clouds and the rains that come in via Brest regularly end up in Strasbourg.
France receives an average of 480 billion m3 of rainfall per year, 321 of which evaporate into the atmosphere. If we add the 11 billion m3 from cross-border rivers, it can dispose of about 170 billion m3 of fresh water per year (about 2,800 per inhabitant). A situation that can be described as "average high" at the global level. Consider that Latin America has more than 35,000 m3 of renewable fresh water per inhabitant per year, whereas Algeria only has 500 and Saudi Arabia or Libya 150.
"The French problem is therefore not a lack of water but that of better management of the water available."
Only a quarter of French water is withdrawn, around 40 billion m3 but, in fact, the majority of withdrawals are only temporary, for example the water – which is used to cool nuclear power stations – is only borrowed for a few minutes, the time to warm it up by a few degrees, and discharged into the river just after.
In fact, the "real" net consumption (volumes of water not immediately returned to the aquatic environment or evaporated) is around 6 billion. Contrary to what many people think, very little water is therefore withdrawn in France, barely 3.5% of the water available, for agriculture, industry and domestic use.
The French problem is therefore not a lack of water but that of better management of the water available. Of course, if we try to throw back into the sea the water that falls from the sky in winter as quickly as possible, there is then a lack of it during the summer when it no longer falls. And remember that the seas are not thirsty: they contain 96% of the water on the planet and it is not a change in the flow of a river that will cause them the slightest problem!
Of course, the situation differs according to the regions, it rains more in Brittany than in the Var: the regions which are experiencing the most difficulties are the Mediterranean zone and the South-West, but also the Paris region where demand now exceeds capacity. natural resources of the Seine. Without forgetting Poitou-Charentes, or Brittany whose granite base limits underground storage capacity and makes surface water vulnerable to agricultural and livestock effluents.
But we can still estimate that, in theory, each French field receives enough rainwater in the year to grow wheat, corn or potatoes.
And in addition, we have stock: the stock of groundwater is estimated at around 2,000 billion m3, to which must be added 110 billion on the surface (lakes, ponds, dams). This is equivalent to twelve years of average availability, a figure which has unfortunately been falling for a few years, but which nevertheless remains relatively comfortable: we are therefore not on the eve of forced migrations due to drastic droughts as we see in many countries. other regions of the world such as the Sahel.
All the more reason to manage our water more intelligently than in the past, to avoid the conflicts of use which have multiplied in recent years.
Because, let's not forget: we need a lot of water to eat, and not just to drink! Because the plants were "delivered" to us in a way with an original fault, without a motor! For the sap to be able to rise from the roots through the stems to the top of the plant (for example the tops of the trees or the ears of cereals), it must transpire enormously because its only "motor" is capillarity. The oldest of our readers have all had the experience of dipping a blotter in a plate of water and seeing that, despite gravity, the water miraculously rises… But, provided that said blotter is dry, if it is already wet, nothing happens because the capillarity no longer works.
The plant therefore spends its time sweating, and therefore requires a lot of water to be able to produce food. Really around 200 liters for a kilo of tomatoes, 340 for a kilo of strawberries, 800 for a kilo of bananas, 1,500 for a kilo of avocados, and 500 to 1,500 liters for a single kilo of cereals! Note also that, despite popular belief, corn ultimately consumes less water than wheat. Its problem is that, as a plant in the humid tropics, it is out of step with the European seasons and needs to drink in July-August, when it flowers, whereas wheat, which is well adapted to our climates, drinks when it rains in April-May! Hence the idea of ​​gradually replacing it with an equivalent plant but from the arid tropics, sorghum, which needs much less water during the summer. Read about it my recent article on millet.
The record is reached when you only eat the seeds of the plant (8 tons of water for a kilo of almonds or walnuts, 15 for a kilo of coffee, 17 for a kilo of chocolate!). And, of course, it's even worse for compound foods, especially of animal origin, because when you eat milk, meat or eggs, you indirectly use all the water that was used to produce the food. who fed the animals (4 tons of water per kilo of chicken meat, 6 tons for pork, 13 tons for beef).
This question of water conservation has occupied humanity for centuries, even millennia. Let's think that there are 60,000 dams in the world, half of them in China, it is worth eating properly for 1.4 billion Chinese, or 17% of the world's population, on only 7% of arable land and 7 % of available fresh water (moreover very badly distributed, the north is chronically thirsty and the south is regularly flooded).
In fact, around 200 million hectares worldwide are irrigated in the summer, using water from dams, rivers, lakes and groundwater, or one in seven fields. This figure is not expected to increase much. , whatever we do, it could even decrease because of the overexploitation of reserves and their low renewal with global warming. Lake Chad and the Aral Sea, respectively 4e et 3e largest bodies of fresh water in the world, are disappearing and many rivers are now dry at the mouth for a good part of the year, or threaten to be so: the Yellow River in China , Colorado, Arkansas and Rio Grande in the United States, Paraná and Paraguay in Latin America; there is a strong risk of water wars between countries bordering large rivers such as the Mekong, the Brahmaputra, the Ganges, the Indus, the Syr-Daria and the Amu-Daria in Asia, but also the Nile and the Euphrates, etc.
Some countries do not even have a single river on their territory: Saudi Arabia, Yemen, Kuwait, Oman, Bahrain, the Kiribati Islands, Maldives, Malta, Marshall, Tonga, Tuvalu, etc.
As for the water tables in which a lot is pumped for irrigation, many are now threatened in the USA that of the Ogalalla, with its 200,000 wells, has gone from 60 to 30 m thick, the water table of the Ganges valley in India, the aquifers in Hebei in China, Guanajuato in Mexico, Chanaran in Iran, Islamabad in Pakistan have dropped by 60 m per year, etc. In Ile-de-France, we would do well to remember that the Albian green sands aquifer took 30,000 years to form…
All in all, there is a strong risk of a serious lack of water for irrigation in many parts of the world, and it is not the floods that will multiply in other regions that will help solve the problem!
Consider that in France, on January 16, 2022, four departments were still placed on drought vigilance (Ille-et-Vilaine, Jura, Lozère and Savoie) and eight were on alert with water restriction measures (Oise, Deux-Sèvres, Ain, Isère, Lot, Tarn-et-Garonne, Haute-Garonne and Pyrénées-Orientales). And big storms do not solve the problem because they cause saturation of the surface soils, and consequently, the water runs off instead of infiltrating, the flow taking place horizontally instead of vertically.
To fight this disaster effectively, we must therefore resolutely implement a whole battery of practices, including:
Systematically flush out and eliminate leaks in hydraulic networks. It is estimated that the French water network is still the victim of a leakage rate of 20%. We can, we must, do much better, and it pays off: the Federation of Water Companies estimates that in 13 years, from 2006 to 2019, the improvement in yield rates has made it possible to raise 1.1 billion fewer cubic meters per year in nature, while during the same period the population increased by 4.5 million.
Stop concreting and artificializing soilswhich prevents infiltration and promotes flooding.
Stop plowing and cover the soil permanently (cover plants, hedges, trees). This makes it possible on the one hand to greatly attenuate runoff during periods of heavy rain, and on the other hand to allow the water to infiltrate into the ground, where it is stored for free (if the geological structure is favorable), and on the other hand, to greatly lengthen the size of the roots of annual plants, so that they go and serve themselves in depth. It is estimated that, in soil that has not been tilled for years, wheat and maize can project their roots to a depth of 2 m, compared to a few tens of centimeters on soils hardened by frequent ploughing.
Store water on the ground, when you can't do it in the ground, via ponds and other basins… or dams. Indeed, some soils are too porous and do not store water, for example in France in Brittany and Charentes.
Resolutely enter an era of water sobriety…
And invent a thousand new methodslike the one presented at the beginning of this text.