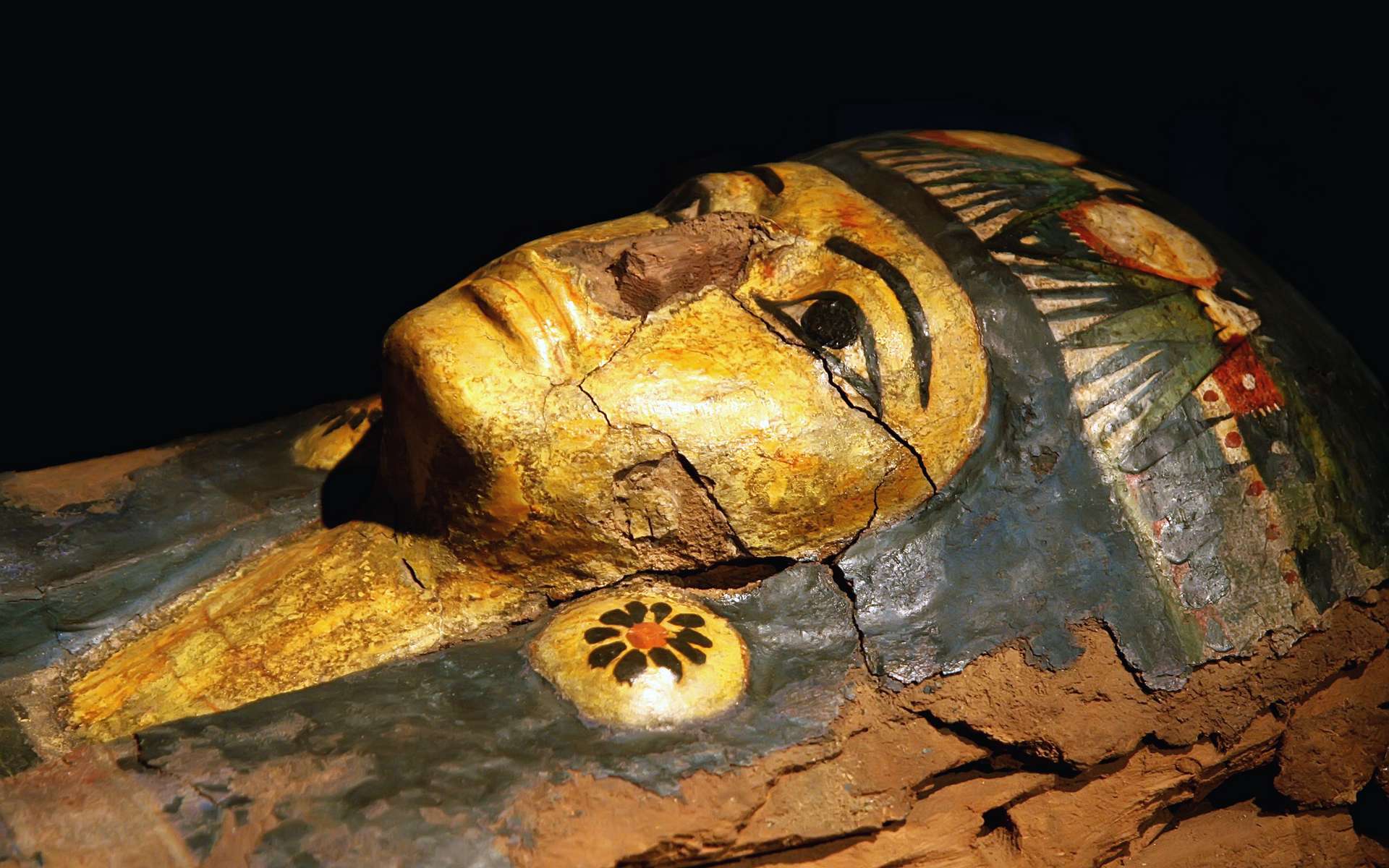 An intact Egyptian mummy, dating from 2,300 years ago, has been probed by researchers, more than 100 years after its discovery. Her study reveals that the teenager she keeps was buried with many riches believed to accompany the deceased in their afterlife.
In 1916, a still intact mummy was found in a cemetery dating back to 2,300 years ago, located in Nag el-Hassay in southern Egypt. Corresponding according to its size to a teenager or a child, the coffin testified to certain wealth, earning it the nickname of « Golden boy ». SStored until now in the Cairo Museum, it has just been studied again by Egyptian researchers.
For this, they used computerized tomography, an imaging technique that makes it possible to reconstruct the internal volume of an object from numerous measurements taken from the outside. Their results, published in Frontiers in Medicine, confirm the high socioeconomic status of the 14-year-old child who died more than two millennia ago. He also appears to have died of natural causes.
Ornaments to help the deceased in their afterlife
Multiple funerary accessories were found in the two coffins surrounding the mummy. They were used to promote the bodily resurrection of the deceased. The Egyptians believed in life after death, and the deceased were cared for in such a way as to facilitate their path to this second life. the Golden boy was thus buried with 49 amulets of 21 different shapes, sandals, a golden helmet, and the mummy was surrounded by fernsferns. "The sandals were probably intended to allow the boy to step out of the coffin. According to the ritual of the Book of the Dead of the ancient Egyptians, the deceased had to wear white sandals to be pious and clean before reciting his verses", said in a statement Dr. Sahar Saleem, first author of the study and professor at the Faculty of Medicine at Cairo University, Egypt.
Amulets, on the other hand, testify to different beliefs. One was placed in the mouth of the deceased to allow him to speak after his death, another was to bring balance, another the duality between spiritual and material life… "They include theeyeeye of Horus, the scarab, the akhet amulet of the horizon, the placentaplacenta, the knot of Isis, and others. Many were gold, while some were semi-precious stones, clayclay cooked or earthenwareearthenware. Their purpose was to protect the body and give it vitality in the afterlife," a conclu Sahar Saleem.