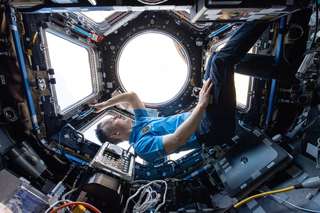 He joined the ESA astronaut corps a few years after Thomas Pesquet was selected. Since then, the German Matthias Maurer has done a six-month mission in the ISS, after that of Thomas.
On the mission Cosmic Kiss is now complete. German astronaut Matthias Maurer of the European Space Agency (ESA) returns from the post-flight phase. Summary of two exclusive interviews with Futura on the occasion of the International Astronautical Exhibition (IAC) in Paris in September 2022, and the announcement of the new promotion of ESA astronauts in November.
Matthew Maurer: I came back in May (2022) and I'm super excited about the mission because it was really a success. There was the phase post-flight of six months, of which the first six weeks after the flight are rather devoted to medical tests. After a short vacation, I traveled extensively to all countries in Europe to present the successes of the mission to the public.
Futura: What are the scientific experiments that have marked you the most during your mission?
Matthew Maurer: There were experiences that had more impact. For example, I had the experience Touch Me If You Can (Touch me if you can, winkeyeeye to the movie). Antimicrobial materials have been tested. They block the transmission of germsgermsit is very important in this context of pandemicpandemic. As another experience, I produced concreteconcrete in the space. We are studying this because the production of concrete in the world releases even more CO2 in L'atmosphereatmosphere than the entire aviation industry.
Futura: What is the weight of camaraderie between astronauts?
Matthew Maurer: In space, we are human beings and therefore we work with others. For us, the nationality of the colleagues is not at all important. We are friends, brothers and sisters. We must have 100% trust between us otherwise we cannot work effectively in space and solve any problem.
Futura: What is your job now that the post-flight phase is over?
Matthew Maurer: I am responsible for the ESA Luna project. It is a center for training astronauts and testing new technologies on lunar terrain. This is a new building that will be built next to the astronaut center (EAC) in Cologne, Germany. We will prepare the trips to the LuneLune.
Futura: Going to the Moon, the great desire?
Matthew Maurer: This is the great dream of all astronauts. The first dream is to fly in space. The second is to get out of the Space stationSpace station. I was able to do those two. The third dream is to fly to the moon and walk on the moon.
Futura: Over 22,000 applications for ESA's 2022 astronaut selection. Does it make you happy that astronautics is so popular today in Europe?
Matthew Maurer: Yes, it's clear: young people are interested in space. This is a really important subject for the future and for our society. During my selection, we only had 8,500 candidates. If there had been 22,000, maybe I wouldn't have been chosen.
Matthew Maurer: My selection was in 2009. I was part of a group of 10 finalists. We had passed all the exams with great success, so I already thought I was going to be an astronaut. Then the director general of ESA came and said that, unfortunately, he only had six tickets, and that the other four, of which I was one, were never going to become an astronaut. For me, it was really a super hard moment because I believed in it. The Director General offered the four of us to work for ESA, in another position. The other three didn't want to, I said yes. Four years later, ESA is extending its contribution to the ISS program, meaning more flights to come. So the general manager came to see me, he said " Matthias, do you still remember your whole dream? Do you still want? "And I say" Oh, but of course! Like what, you have to have a dream but you also have to have perseverance. If it doesn't work today, maybe it will work tomorrow.
Futura: What will be your role in the integration of newcomers?
Matthew Maurer: We elders will help them, give them advice, like mentors. My colleague Alexander Gerst will be responsible for this new group for the next two to three years. Maybe there will be a rotation in our team. Anyway, we astronauts are a small family!
Futura: What advice would you give to young people who would like to become an astronaut?
Matthew Maurer: It is not known when the next selection will take place. Space is really dynamic, with the commercial sector, and we're going to see a lot more opportunities to fly in space. Maybe the next selection will come sooner? The important thing is that you have to have this dream, and also perseverance because it's not going to be easy. You have to be good at what you do, at school, in studies, and you have to really want to do everything you do. And the most important thing is to work well as a team. An astronaut who works alone does not become a good astronaut.
Futura: Among the missions that the new ones will be able to do, there will be the Moon
Matthew Maurer: First they will fly to the International Space Station, then they will have the chance to fly to the Moon. And since they are still quite young, maybe they will even fly to Mars?