In the cryptocurrency market, prices are very volatile, and volumes also experience significant fluctuations. While this variability is experienced frequently during the day, it is also seen in longer periods. However, cryptocurrencies can experience increased volatility, especially during certain hours. A study was conducted for Bitcoin in 2019 and it was determined that the number one crypto money changed the most between 03.00 and 04.00 TSI. Now, another study has revealed that the lowest and highest levels of trading volumes are predominantly recorded at what hours.
The data compiled by the crypto research company CoinMetrics for 2022 revealed that the Bitcoin spot transaction volume reached its highest level between 17:00 and 19:00 CEST. The chart below shows the daily change in spot trading volume by hour. The lowest level in trading volume is usually seen after 00.00 CEST.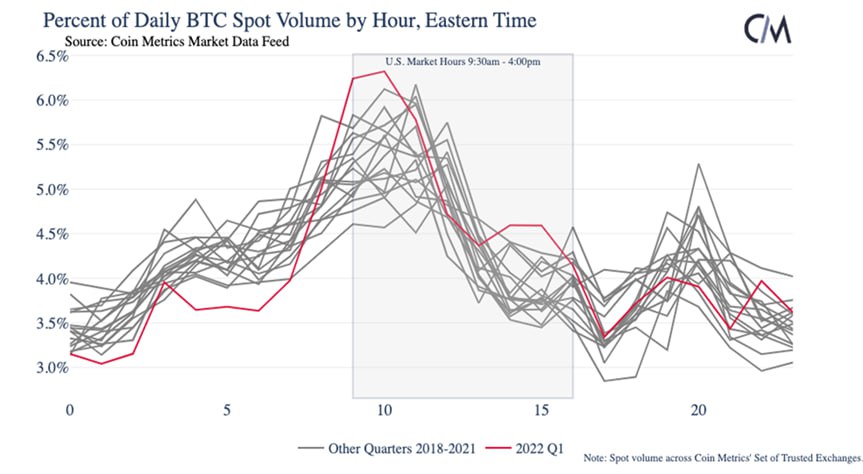 Cryptocurrency market is recovering
The market started to recover after the collapse of FTX and the collapse of Alameda that affected the market. Bitcoin's recovery since the beginning of 2023 has also instilled hope in investors. The leading cryptocurrency managed to regain more than 40 percent of the market value it lost during the bear market, while rising from $ 16 thousand to over $ 23 thousand.
The total volume of Bitcoin options on Deribit, the largest Bitcoin options exchange, reportedly rose to $4.25 billion last week, the highest level since FTX went bankrupt.
➤ Bitcoin News