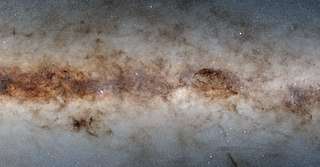 Astronomers have just published images sent back by an instrument intended to identify dark energy. They reveal the Milky Way in all its glory. There are more than 3.3 billion celestial objects. Undoubtedly the largest catalog of this type to date!
In our Milky Way hide hundreds of billions of objects. Stars, clouds of gas and dust, areas of star formation. So much that it seems almost impossible to establish a complete catalog. Yet this is what the mission began to do Dark Energy Camera Plane Survey (DECaPS2). Two years of work and 10 terabytes of data collected by the Victor M. Blanco telescope (Chile) equipped with the DECam — for Dark Energy Camera —, a high-resolution instrument designed to track down dark energy. All to finally obtain a review of some 3.32 billion celestial objects in the southern sky.
In 2017, a first data set, DECaPS, had already been published. But adding these, it's about 6.5% of the sky that is covered. On visible and near infrared wavelengths.
Uncover the secrets of the Milky Way
Near infrared data, in particular, make it possible to pierce the dust to dive into the galactic plane. A region that houses most of the objects that make up the Milky Way, but in which it remains difficult to distinguish a star as its light can be masked by clouds and can also be superimposed on that of another star.
To overcome this difficulty, the researchers developed a new image processing technique. Enough to predict the background behind each star and thus mitigate the effects of nebulae and crowded star fields. "Imagine a group photo of three billion people in which each individual would be recognizable"comments Debra Fischer, the division director of astronomical sciences at the NSF, the National Science Foundation (United States), in a press release from NOIRLab, to make us understand the technical prowess achieved here.
The result is a mapping of the 3D structure of stars and dust in our Milky Way in unprecedented detail. And analytical work for astronomers for several decades… But if you just want to treat yourself to a trip to the Milky Way, the data in question is available to everyone here.