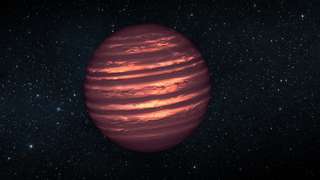 Brown dwarfs are dark celestial bodies that are neither quite stars nor quite planets. They rarely orbit stars, and the thousands we know of are often nomads in the Milky Way. This is not the case of HIP 21152 B, which is the first confirmed substellar companion of a main sequence star in the Hyades cluster discovered by direct imaging. Its mass is similar to that of a giant exoplanet – between 22 and 36 Jupiter masses.
Two releases from an international team of astronomers have just announced that a brown dwarf orbiting HIP 21152, a young Sun-like star in the Hyades cluster, has been imaged directly. The Subaru Telescope Extreme Adaptive Optics (SCExAO) and Coronagraphic High Angular Resolution Imaging Spectrograph (Charis) were used, as well as the adaptive optics of the Keck Observatory telescopes with a near-infrared camera second generation (Nirc2).
This Hyades cluster is the closest to the Solar System and can be seen with the naked eye with its V-shaped pattern in the constellation Taurus; can be seen with the naked eye, because this group of young stars was born almost at the same time, the Hyades cluster has attracted the attention of astronomers as an important research target for the study of evolution stars and planets.
Located about 150 light-years from the Sun, the brown dwarf, aptly named HIP 21152 B, is the first confirmed substellar companion of a main-sequence star in the Hyades cluster discovered by direct imaging, such as the explains an article published already since last year in The Astrophysical Journal Letters.
Stars studied for 60 years
The existence of brown dwarfs was theoretically predicted by Indian astronomer Shiv S. Kumar during his thesis during the period 1958-1962. He was interested in the theory of very low mass stars (M < 0.1 solar mass), stars which he had called black dwarfs. But, in particular because these objects can be luminous at visible wavelengths at the beginning of their life because they are heated by gravitational contraction during their formation and according to the Kelvin-Helmholtz mechanism; it is another name about them which will make a fortune and which has been used since the first brown dwarfs were observed in the mid-1990s. like stars, indeed owe their brown dwarf name to Jill Tarter, an exobiologist known to be one of Seti's leading figures.
Brown dwarfs are interesting because they are celestial bodies intermediate between a star and a planet in terms of mass and which are not found in our solar system. They are also useful for studying the evolution and atmosphere of giant planets, since Jupiter-like planets and the lightest brown dwarfs should have similar characteristics.
Thousands of brown dwarfs have been found since the first discovery in 1995 but those orbiting a star are rare, with a frequency of only a few cases per 100 stars. HIP 21152 B should therefore be a reference object for studying the evolution of giant planets, brown dwarfs and their atmospheres.
Astronomers have already established, through spectral analyzes of HIP 21152 B's atmosphere, that it is transitioning from an L-type brown dwarf to a T-type brown dwarf, meaning it cools, with a temperature of 1200-1300 K.
(embed)https://www.youtube.com/watch?v=3M6oe_svN4c(/embed)
A presentation of the world of brown dwarfs presented on May 7, 2020 by Frédérique Baron, from the Institute for Research on Exoplanets – iREx. © Program Channel Discovering the Universe
Different types of brown dwarfs
As Futura had already explained, brown dwarfs are more or less always part of the debate concerning on the one hand, the limit in mass beyond which a body is part of the stars (and not of the brown dwarfs) and on the other hand, concerning the limit below which the star is a gas giant. Astrophysicists agree on one point, however: what differentiates a star from a brown dwarf is the fact that it is massive enough for long-lasting thermonuclear fusion reactions, such as those described by the proton-proton chain or the of Bethe-Weizsäcker, snap into it. We then find masses between 75 and 80 times the mass of Jupiter (MJ), i.e. about 0.07 solar masses.
When it comes to the criterion for distinguishing between a gas giant and a brown dwarf, scientists generally use the threshold of 13 MJ. Temporary fusion reactions, in this case that of deuterium, can then occur, like that of lithium from 65 MJ.
Brown dwarfs are subdivided into several spectral types like ordinary stars. The hottest and brightest are thus part of the so-called M dwarfs, which are therefore similar to the red dwarfs of the same type. Then come the two main kinds of brown dwarfs with first those of type L, which have temperatures roughly between 1,500 K and 2,500 K, and type T dwarfs again with temperatures roughly between 1,500 and 500 K. Y dwarfs have temperatures below 500 K.
There are, however, slight variations in the literature about them, so it is sometimes found for T dwarfs that they must have surface temperatures below 1,200 K.