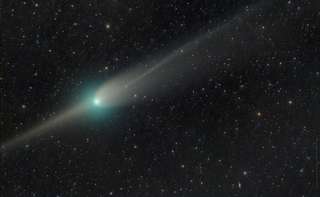 It's happening right now: a comet is visible to the naked eye, and it will be closest to Earth in a few days, the 1is february ! Baptized C/2022 E3 (ZTF) and more commonly nicknamed ZTF, it has many interesting characteristics to detail.
On March 2, 2022, astronomersastronomers observe using the Zwicky Transient Facility an object located at 4.3 astronomical unitsastronomical units (ua) you SoleilSoleil, resembling a planet. A few days later, a condensed hair revealed that this object is in fact a cometcomet ! Called C/2022 E3 (ZTF) in reference to its date of discovery and the astronomical readings that allowed it, it approached the Sun until reaching its perihelion on January 12, 2023, then being at 1.1 ua of the Sun. She continues from her road, which will approach theorbitorbit of the Earth until it reaches its closest point on 1is February 2023, where it will be 0.28 AU from us, or about 42 million kilometers!
Its last passage in the surroundings of the Earth dates from approximately 50,000 years ago. After this one, she shouldn't be returning to the earthly neighborhood anytime soon. Considered a long-period comet, its eccentric orbit casts doubt on an upcoming passage to Earth's trajectory.
Where and when to observe comet ZTF?
By 1is February, Sat in apparent magnitudein apparent magnitude, so its brightness, should still be less than 6, potentially up to 5! It will then be bright enough to be visible to theeyeeye naked in the night sky. We will however remain far from the brightnessbrightness of Neowise which had reached magnitude 1. It is therefore preferable to admire comet ZTF with an astronomical instrument, binoculars or telescopetelescope, which will allow a better view. To observe it, it is best to move away from any light pollutionlight pollutionin particular that of the cities, and to hope for a sky without cloudsclouds. You will then have to look in the direction of the constellationconstellation from GiraffeGiraffewhich starts fromNorth StarNorth Starand extends to Cassiopeia, Cepheus and the Coachman.
Comet ZTF has anti-tail and green hair
Taking a closer look at Comet ZTF, there are several important details to note. First of all, her green hair, also called coma : this envelope, or halo, around the core of ice and dust is formed during the passage of the comet close to the Sun. At that moment, part of the components of the nucleus sublimates, therefore passes directly from the solid state (ice) to the gaseous state. The hair can extend to reach the size of JupiterJupiter, but all at very low densities. The green color corresponds to the sublimated elements. It can in particular come from diatomic carbon which can emit in the green range of the visible. But another phenomenon comes into play: when the solar windssolar winds strike these elements, some break down under the effect of ultraviolet rays, a process called photodissociation. They can produce during this stage ionsions or some free radicalsfree radicals which, in turn, emit photonsphotons.
Disconnection events in the tail of comet ZTF observed by an amateur astronomer. © Miguel Claro, Vimeo
Comet ZTF also has two tails, a common feature of large comets. One is made up of plasma, gazgaz ionized by solar winds, and often bluish and fainter than the other tail. This one, more luminous and often white or bluish, is made up of dust expelled from the core by the Sun. Its trajectory is more curved than that of the first tail and the tail is shorter. Finally, the astronomers noted what is called an "anti-tail", the equivalent of a tail but at the front of the comet! A tail that shouldn't exist, because it seems to stretch towards the Sun, which nevertheless chases mattermatter expelled outside. Thus, the anti-tail was ultimately only a perspective effect due to the passage of the Earth in the plane of the comet's orbit!