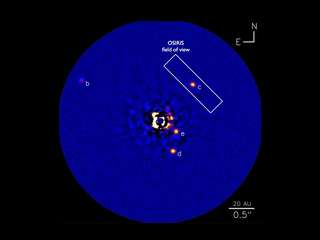 At the beginning of February 2023, the famous Encyclopedia of extrasolar planets displays more than 5,300 exoplanetsexoplanets whose existence has been confirmed. A little over a month ago, a video was released on YouTubeYouTube accompanying a publication on arXiv which exposed data used for its publication.
We owe it to astronomer Jason Wang of Northwestern University on the outskirts of Chicago, in the United States. The researcher shows there an improved version of an animation that he had already made several years ago and which concerns nothing less than the film of the movementsmovements of a procession of exoplanets directly imaged over twelve years in orbitorbit around thestarstar HR 8799 located about 133 light years from Solar systemSolar system.
It is a young star born about 30 million years ago, containing about 1.5 times the massemasse of SoleilSoleil with 4.9 times its brightnessbrightness. Images of its planetary procession are of four gas giants located far enough from their host star that image processing techniques could be applied causing these exoplanets to emerge from the massively dominant light of HR8799 as first shown. in 2008 three astronomersastronomers Quebecer, René Doyon, David Lafrenière and Christian Marois.
By taking the first photo of an exoplanetary system in 2008, three Quebec astronomers, René Doyon, David Lafrenière and Christian Marois, accomplished a feat that has gone around the world. © Radio Canada
"Super-Jupiters" in orbit around HR 8799
Jason Wang therefore combined images taken with the instruments of theKeck ObservatoryKeck Observatory on Mount Mauna Kea, Hawaii, over a period of twelve years. Obviously, the images taken were not taken continuously because it is an observatory in high demand so that the images had to be processed to, in a way, interpolate the movements revealed by photos taken, for example, at months apart. The result obtained therefore shows fluid and not jerky movements summarizing a decade in less than five seconds.
Fortunately, the orbital periodsorbital periods gas giants are on the order of one to a few centuries, so the movements are relatively slow but not too slow so that they can actually be seen clearly over a decade.
In the order of discoveries, we find HR 8799b whose mass is estimated at 5.7 times that of Jupiter, and which with a separationseparation of 71.6 astronomical unitsastronomical units to its host star completes its orbit in 460 years.
HR 8799c has a mass of 7.8 JupiterJupiter and completes its orbit at a distance of 41.4 astronomical units in 190 years. There is water in her atmosphereatmosphere from the first spectroscopic studies.
HR 8799d has the mass of 9.1 Jupiters and orbits at 26.67 astronomical units for an orbital period of 100 years.
The innermost exoplanet is HR 8799e, with a mass of 7.4 Jupiters with an orbital period of 45 years.
The film directed by Jason Wang. © Video making & motion interpolation : Jason Wang (UC Berkeley), Data analysis : William Thompson (UVic) & Christian Marois (NRC Herzberg), Orbit determination : Quinn Konopacky (UCSD) Data Taking : Bruce Macintosh (Stanford), Travis Barman (University of Arizona), Ben Zuckerman (Ucla), Data from the W. M. Keck Observatory
---
Article of Laurent SaccoLaurent Saccopublished on December 16, 2010
We suspected it for nearly a year. Four gas giants are in orbit around HR 8799. Again, it was possible to take pictures of them. But their existence remains incomprehensible…
The HR catalog (for Harvard Observatory, Revised photometry) lists bright stars. Compiled by American astronomer Edward Charles Pickering, it was first published in 1908. It includes the stars of magnitudemagnitude photographic less than or equal to 6.5, which more or less corresponds to the stars visible ateyeeye naked. This catalog included 9,110 objects of which 9,096 are stars of our galaxygalaxy (the remaining 14 objects turned out to be newnew or extragalactic objects).
Nowadays it has been replaced by the Bright Star Catalogue (BSCBSC), from Yale University, which uses the same stars. The star visible to the naked eye located in the pegasus constellationpegasus constellationhaving provided with Fomalhaut b the first direct images of exoplanets in 2008, including porteporte the name of HR 8799.
At the time, observations in infraredinfrared provided on the ground by telescopestelescopes equipped with adaptive optics W.M. Keck Observatory a you Gemini Observatory, in Hawaii, clearly showed three exoplanets, each with a mass about five to seven times that of Jupiter. At the same time, the space telescopespace telescope Spitzer revealed around HR 8799 the presence of a large amount of dust, indicating very active collision processes in an asteroid belt surrounding this young star.
Since then, the astrophysicistsastrophysicists continued to study HR 8799, both with Keck's instruments and with the help of numerical simulationsnumerical simulations. Already, in 2009, the existence of a fourth gas giant in orbit was suspected. A publication in the newspaper Nature confirms today not only that HR 8799e does indeed exist, but also that it has been imaged. Like HR 8799c and HR 8799d, its mass is estimated to be about seven times that of Jupiter.
Orbital resonances on the edge of chaos?
While our own solar system with its four gas giants is 4.6 billion years old, the planetary system of HR 8799 is only a few tens of millions of years old. It has therefore not emerged from the turbulence of its genesis, as shown by those of its asteroid belts and cometscomets. It could even be that we are currently observing a transitional phase of this system.
The orbits may well be unstable and not be able to maintain their current shapes in the near future, on the scale of the evolution of a planetary system. They could, however, remain non-chaotic for billions of years. In the years to come, the improvement in the precision of measurements of the orbital parameters and the masses of exoplanets should allow us to see things more clearly.
According to simulations by specialists in celestial mechanics, the gravitational disturbances exerted on each other by the three internal giants are significant. The orbits owe their stability so far only to the fact that HR 8799e and HR 8799b complete their orbit in respectively four times and half the time of HR 8799c. It is a phenomenon similar to that of orbital resonances, which is observed in the Solar System. The best known case is probably that of Laplace resonance, with the mondaymonday of Jupiter, Io, Europa and GanymedeGanymede. However, this is the first time that this phenomenon has been observed on such a large scale.
A puzzle for the theoretical planetologist
Most fascinating, but also most problematic, is that the current structure of the planetary system of HR 8799 defies theoretical models of planetary formation! These models had already been undermined in 1995 with the discovery of the first Hot JupiterHot Jupiter. At the time, it was difficult to understand how a gas giant could end up so close to its host star when it was supposed to form at a great distance. Subsequently, the multiplication of observations of the same kind had led to the recognition of the importance of the process of planetary migrations.
For Bruce macintoshmacintoshone of the authors of the article Nature : « There is no simple model explaining the presence of these four planets in their present location. This is a challenge for our fellow theorists ". The observations cannot be explained either by the model ofaccretionaccretion in which planets form in the near neighborhood (rich and dense in gazgaz and dust) around a star, nor by the fragmentation model of a turbulent protoplanetary disk.
As Hamlet said to Horatio: There are more things on earth and in heaven, Horatio, than are dreamed of in your philosophy. ».