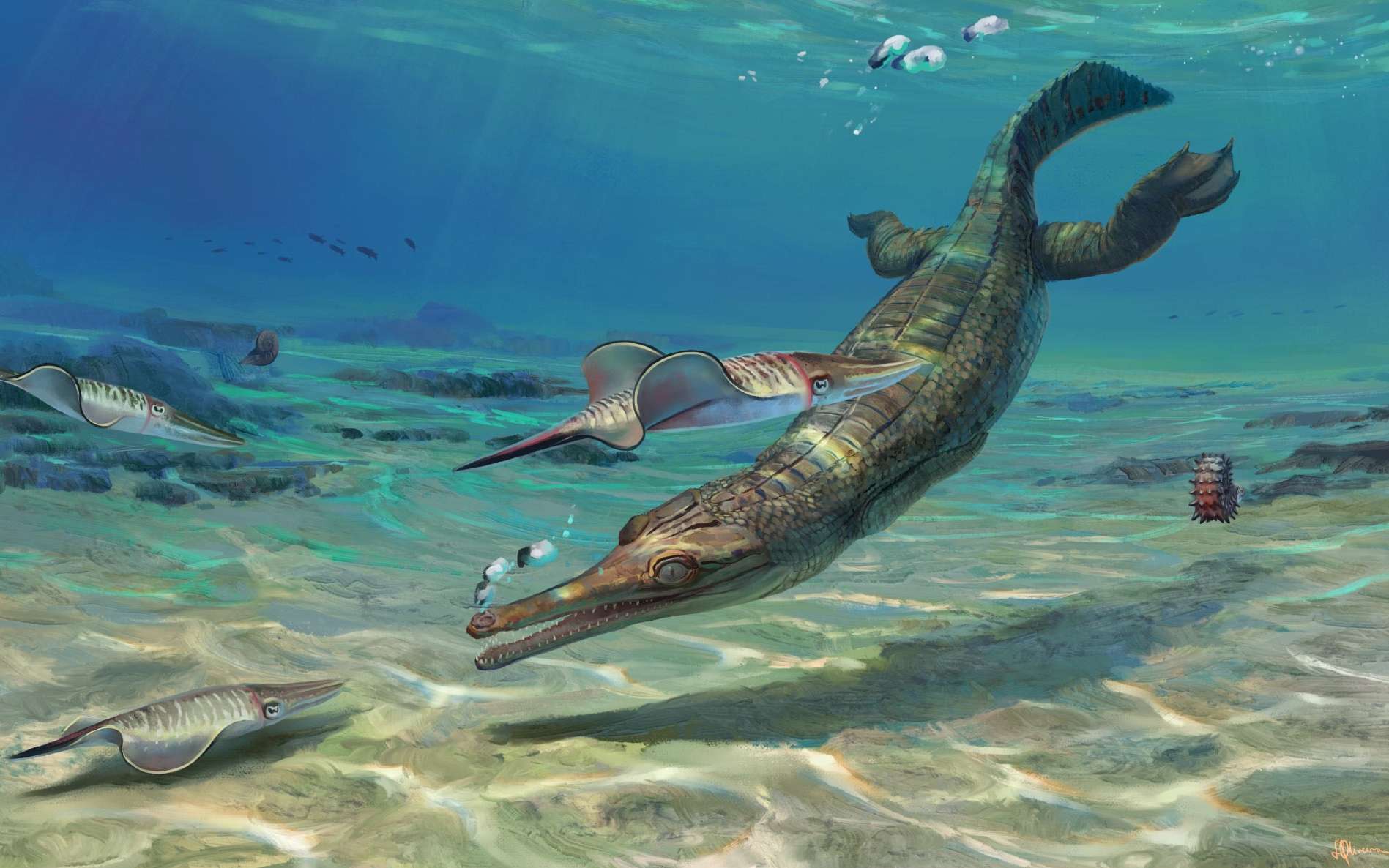 The discovery of a thalattosuchian skeleton, a distant cousin of crocodiles, allows us to better date the appearance of this marine species.
Our understanding of the evolutionary history of different species, including our own, is essentially based on chance paleontological discoveries. The fossils that scientists find thus make it possible to observe the anatomical evolution within a group over millions of years, to establish branches and divergences, and to date them.
But this story is rarely complete: for each species, there are "gaps" of data at some point in geological history. Indeed, fossilization is not a systematic mechanism, and the fossils still have to survive millions of years without damage. Finally, even if these conditions are met, it will be necessary to play by chance so that the eye of a paleontologist falls on the rare pearl allowing to complete the evolutionary thread of a species.
A cousin of crocodiles dating back 185 million years
And yet that is what happened. While studying coastal cliffs in southern England, a site already known for its ichthyosaur and plesiosaur fossils, a team of scientists discovered a skeleton of Turnersuchus hingleyae. This marine crocodylomorph (from the thalattosuchian clade), a distant cousin of modern crocodiles, would have lived 185 million years ago.
The skeleton, made up of the head, the vertebral column and the limbs, is the most complete found to date dating from this period of the beginning of the Jurassic. Until then, the oldest fossils of this species were about 10 million years older. The discovery was unveiled in the journal Journal of Vertebrate Paleontology.
The fossil could partially fill a gap in knowledge about the appearance of crocodyliforms. The analysis of the Turnersuchus fossil indeed suggests that thalattosuchians would thus have appeared at the end of the Triassic period, around 200 million years ago and that they would therefore have survived the mass extinction marking the transition between the Triassic and the Jurassic. No such primitive thalattosuchian fossil has yet been found, however. However, it may only be a matter of time.