Technology
With Axiom Space, Saudi Arabia offers itself a stay aboard the International Space Station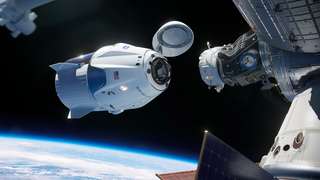 After a successful first mission in April 2022 aboard the International Space Station, Axiom Space's second commercial mission is ready to take off. It will bring a crew of four private astronauts, including two Saudis, aboard the orbital complex for a ten-day stay during which 20 experiments will be carried out.
You will also be interested
[EN VIDÉO] ISS: Incredible Space Station Guided Tour American astronaut Randy Bresnik shares his behind-the-scenes look at the Space Station, and…
On Sunday, four private astronauts will board a Crew Dragon and take off for the International Space Station (ISS) for a ten-day commercial mission. This private mission is the second organized by Axiom Space, after Ax-1 in April 2022 which allowed space tourists to live and work on board the Space Station for ten days.
The crew of this second mission, Ax-2, has four members. Saudis Rayyanah Barnawi and Ali Al-Qarni. The other two crew members are Americans Peggy Whitson, a former NASA astronaut with numerous space records who will make her fourth flight aboard the ISS, and John Shoffner, a businessman from Tennessee who will act as of "pilot". Peggy will be the mission commander. Her task will be to supervise the crew so that they do not "scatter" too much and become a nuisance for the seven members of Expedition 69 currently on board the ISS.
The four members of Ax-2 will carry out 20 scientific experiments and technological demonstrations in several fields. Activities like "real" astronauts and cosmonauts made possible by the integration of the Ax-2 mission with NASA processes for science and technology activities on board the ISS. The mission's website lists and summarizes each of the planned experiments and demonstrations.
Work and little tourism
The two Saudis will not be on vacation. Although they will take advantage of the dome, a formidable promontory from which to observe the Earth, they will carry out around ten experiments, including an interesting one on cloud seeding which aims to increase precipitation where rain is rare. In collaboration with the Ministry of Education, real-time educational experiences will also be set up on board the orbital complex. Some 12,000 students are expected to attend from Saudi Arabia. The aim is to inspire the future generation of scientists, aspiring astronauts as well as encourage young women to pursue STEM careers (short for the English terms Science, Technology, Engineering et Mathematics).
Rayyanah Barnawi will be the first Saudi woman in space. A considerable societal advance in this ultra-conservative country in terms of women's rights. Until the end of the 2010s, a period in which a timid opening had been initiated following the announcement of several economic and social reforms desired by Prince Mohammed Bin Salman as part of the Vision 2030 project, he would not have conceivable that a Saudi woman flies into space. Well, today it's done!
Did you know ?
Saudi Arabia's foray into space is not a first. In 1985, Saudi Prince Sultan bin Salman bin Abdulaziz, an air force pilot, took part in a mission organized by the United States, becoming the first Muslim Arab in space.
Recall that within the framework of Vision 2030, Saudi Arabia has set up a Space Commission and has set up a program to send Saudi astronauts into space, all within the framework of the Vision 2030 program. During this mission, we interviewed Mishaal Ashemimry, Special Advisor to the CEO of the Saudi Space Commission and Vice President for Diversity Initiatives at the International Astronautical Federation. His interview will be posted at the end of next week.