Cryptocurrency
Opside Incentive Pre-Alpha Testnet Now Available (Sponsored)
We are proud to announce that the Opside Incentive Pre-Alpha Testnet went live on May 24 and is expected to be operational for approximately three months.
This testnet marks an important milestone that reflects our commitment to foster an inclusive environment that fosters widespread participation by PoS validators, PoW miners, developers and end users. In this collaborative environment, Opside aims to test and improve various functions, including:
Integration and effectiveness of our hybrid PoS and PoW consensus mechanisms.
Successful adoption and compliance with the ETH2.0 consensus model.
The operational performance and flexibility of our Zk-rollup execution environment.
Implementation of various strategies to ensure smooth and secure asset transfers between different tiers and ZKrollups.
Practical implementation of our proposed tokenomic model.
General Users
Contact us to be instantly informed about the last minute developments.
Twitter
ve
Telegram
You can follow our channel.
General users are the backbone of the Opside network as they help evaluate the key features of Opside, including cross-chain transactions, dApp interactions, and fostering a robust Opside ecosystem.
Opside, in partnership with Galxe, offers an immersive and rewarding experience where users can freely participate in various missions and earn rewards for their participation.
Join us on this extraordinary journey by visiting https://galxe.com/Opside/campaign/GCpHhUYvox.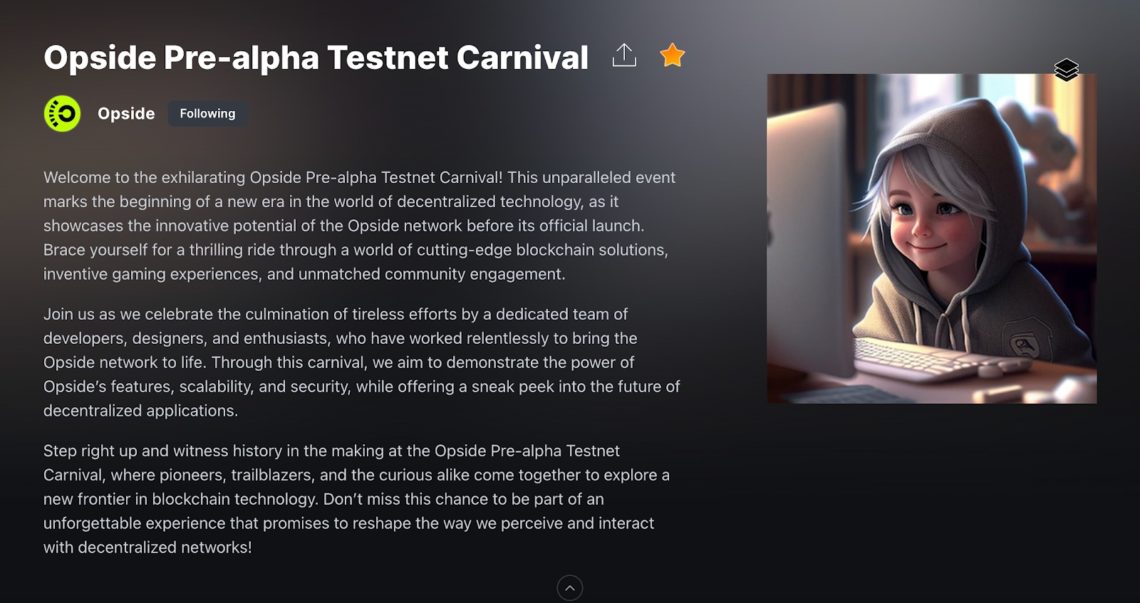 Beyond our core initiatives, we will collaborate with a number of select industry partners to host side events. These events are a token of our gratitude for the unwavering support and encouragement we have received from our community over time.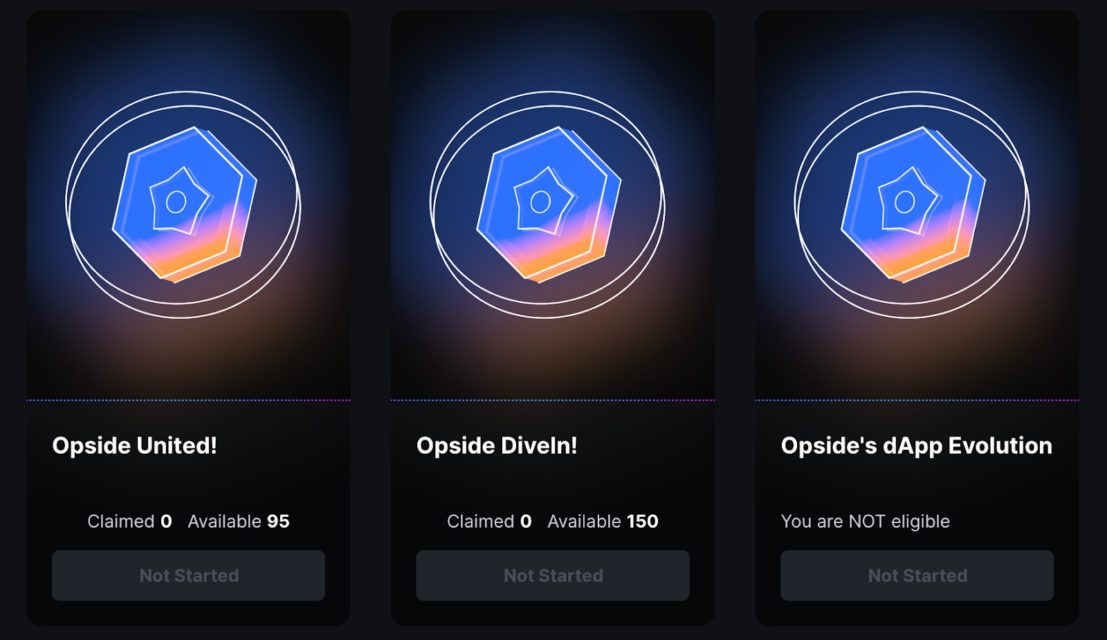 We remain unwavering in our commitment to nurturing a thriving and prosperous ZKRollup ecosystem, supported by consistent and synergetic collaborative efforts.
PoS Authenticators
For PoS Validators, the responsibility of maintaining the stability and security of the Opside network is extremely important. Validators process transactions ensuring their accuracy and integrity within the network and are encouraged to do so reliably and fairly through Opside's tokenomics.
In addition, Opside PoS launchpad simplifies the setup process for potential validators, encouraging widespread participation.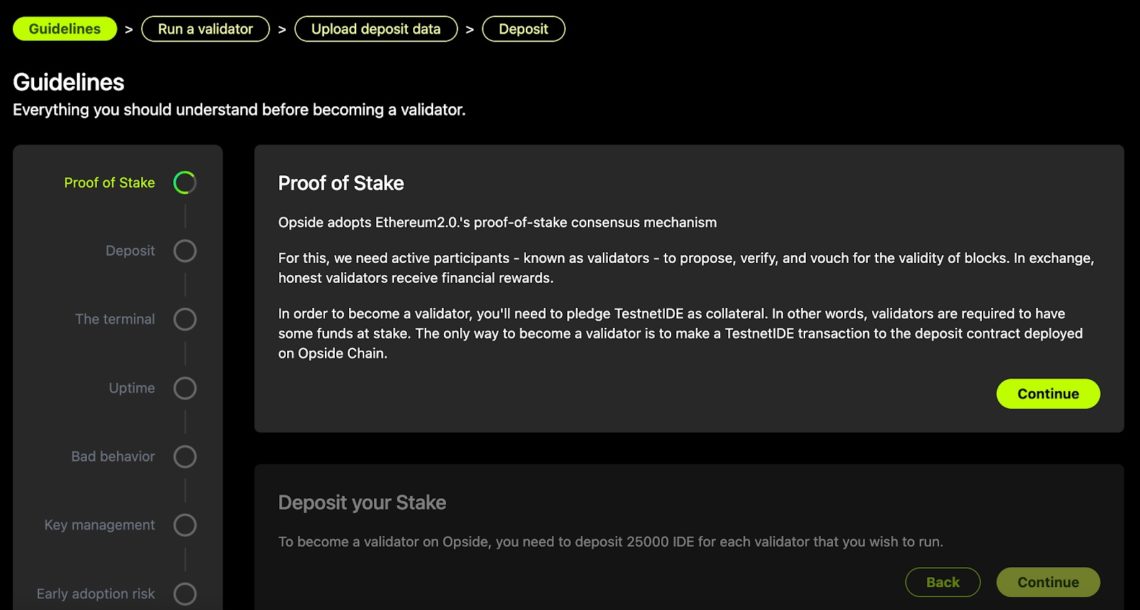 Equipment:
Operating System: 64-bit Linux, Mac OS X 10.14+, Windows 10+ 64-bit
CPU: 4+ cores @ 2.8+ GHz
Memory: 16GB+ RAM
Storage: SSD with at least 500GB free space (we recommend 2TB on mainnet)
PoS Documentation: https://docs.opside.network/validators-pos
PoW Miners
For PoW Miners, we are aware of the valuable contribution of computing power that underpins ZKP generation for ZKRollups. To this end, we are implementing CPU Mining in the first phase of our pre-alpha testnet, and we plan to introduce GPU Mining in the next phases. This phased approach underlines our commitment to performance optimization and security enhancement across the Opside network.
It should be noted that PoW CPU Mining will begin public testing approximately two weeks after the Pre-alpha testnet launch. Specifications will be determined according to official announcements.
PoW Documentation: https://docs.opside.network/miners-pow
developers
Developers are invited to take advantage of our ZKRollup launchpad to quickly and seamlessly install their own ZKRollup. Our EVM compatible network paves the way for rapid deployment and costless migration of all decentralized applications developed in Solidity.
When the time comes, we plan to collect, sort, and view data associated with each ZKRollup available in our ecosystem. This comprehensive overview will provide valuable insight into the performance and relevance of each component, creating a more transparent and information-driven environment for all participants. We also recognize the importance of rewarding success and promoting healthy competition. Therefore, projects that rank high in our popularity ranking will be well appreciated with significant award points. These awards not only provide an incentive for innovation and dedication, but also create a positive feedback loop within our ecosystem that encourages continued growth and improvement.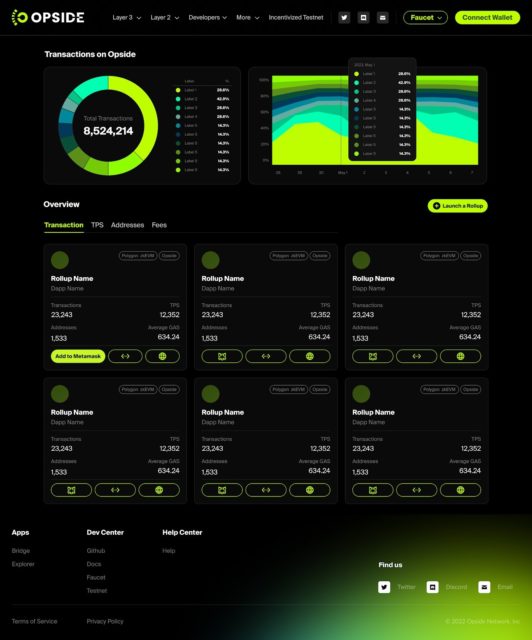 Developer Documentation: https://docs.opside.network/developers/building-on-exclusive-zkevm
Official Opside Developer Grants: https://opside.network/grants.
Warning
Please note that Testnet IDE tokens are for testing purposes only and have no monetary value.
Opside will ensure seamless accessibility of testnet tokens through a Discord-based faucet targeting various roles in the ecosystem.
We have prepared a detailed guide for a smooth user experience. Please access here: https://docs.opside.network/user-guide
The final interpretation of the pre-alpha testnet belongs to Opside.
Surf the Tide
As we continue to fine-tune Opside during the pre-alpha phase and beyond, we remain committed to delivering a product that meets our users' needs and expectations. As part of this process, we will regularly post updates and solicit feedback. We encourage you to stay tuned, participate actively and help shape the future of Opside!