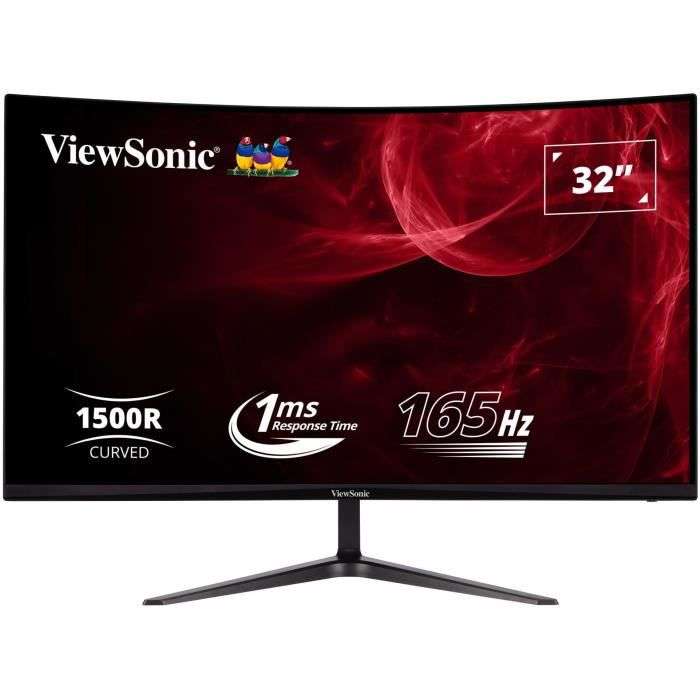 Are you looking to invest in a curved gaming pc screen? This type of screen with a futuristic design doesn't go unnoticed and has many advantages, now is the time for you to enjoy this little gem of technology! At the moment, a very attractive cut is displayed VIEWSONIC VX3218 Curved PC Gamer Screen, it goes from €229 to €199.99,
Features of Viewsonic VX3218 Curved PC Gaming Monitor
This Full HD Curved Screen features a 32 inch curved LCD screen with 1500R curve, enhancing the viewing comfort. It is a device that stands out because of its VA panel which portrays very good contrast and rich colours, which is ideal for gaming. With a refresh rate of up to 144Hz in HDMI and 165Hz in DisplayPort, the ViewSonic screen provides excellent fluidity for gamers who want to take advantage of the best gaming experience. You'll be in the center of the action, the response time is only 1 ms. The screen is FreeSync compatible to reduce screen tearing. In terms of connectivity, the Viewsonic VX3218 is equipped with 2 HDMI ports, a DisplayPort, and a mini jack input.
The VIEWSONIC brand, in a nutshell
VIEWSONIC brand appeared in 1957, it is a company based in California. A few years later, VIEWSONIC devoted itself to computer monitor design to provide the best user experience by striving for excellence. To ensure the quality of its products, the brand develops partnerships with such leading companies as VMWare, Nokia and Microsoft. VIEWSONIC's reputation has been built over time, the brand creates LED monitors, video projectors, interactive screens… In 2010, the company designed the largest LCD monitor.