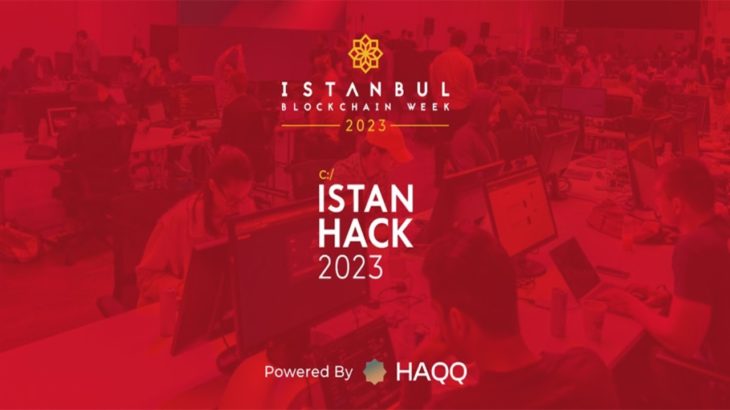 HAQQ will launch the $50,000 Bounty Hackathon Innovation during Istanbul Blockchain Week.
HAQQ, a decentralized network led by the ethical and Sharia compliant Web3, announced that it will offer $50,000 in prize money for the Istanbul Blockchain Week Hackathon. The high-stakes competition invites the world's most talented Solidity developers to test their skills and reveal their best innovations.
Bounty Hackathon Extended to HAQQ!
Contact us to be notified immediately about last minute developments.
Twitter
They
Wire
You can follow our channel.
Istanbul, Turkey – July 10th, 2023 – HAQQ (Islamic Coin), a decentralized network supporting ESG-advanced and Shariah compliant decentralized finance, announced a $50,000 Istanbul Blockchain Week Hackathon to support ethical finance development. Participants can register here till August 10, 2023.
Alex Malkov, CEO of HAQQ, shared his excitement for the event, saying: "We are excited to be the catalyst for such an important event that promotes the synergy of technology and ethics.
Sponsoring the IBW Hackathon is more than just an investment in technology; It is an investment in people, creativity and a future where Web3 stands for fairness, sustainability and cross-cultural collaboration." The hackathon aims to develop solutions that drive positive social change and ethical finance. Using the Solidity programming language, exhibitors will highlight the distinctive values ​​of the HAQQ Network's EVM Comparable Series:
ethics finance: Developing smart contracts and decentralized applications that comply with Sharia-compliant principles and support ethical finance practices.
ESG Enabled Solutions: Building applications that solve real-world challenges through decentralized technology that contribute to environmental, social and governance (ESG) driven change.
interoperability: Demonstrating the seamless deployment of existing smart contracts from other EVM chains to the HAQQ network and demonstrating the interoperability capabilities of the chains.
Inclusivity and Access: Creating solutions that empower and engage underrepresented communities and promote financial inclusion and access for all.
Participants will compete on the Decentralized Finance for Social Impact (DFI) path with the theme "Empowering Decentralized Ethical Finance". The main challenge of the hackathon is: "Ethical Decentralized Finance (DeFi) Platforms: Design and deploy DeFi platforms that comply with Sharia principles and provide ethical financial services and products to users."
Powered by the Cosmos SDK and Tendermint Core consensus engine, HAQQ provides a scalable, highly efficient proof-of-stake blockchain. Working with full Ethereum compatibility and interoperability, it unlocks access to Ethereum's access features, which together with Tendermint's POS, create a high-performance, fast and secure blockchain environment.
This makes HAQQ a deep combination of key blockchain features: Web3 and EVM compatibility, excellent throughput via Tendermint Core, horizontal scalability via the Blockchain Communication Protocol (IBC), fast transaction certainty.
This type of architecture includes Ethereum's 'Geth' as ​​a library, which provides a fully compatible Web3 JSON-RPC layer. Developers can leverage built-in Ethereum tools and software to seamlessly deploy smart contracts that communicate seamlessly with the wider Cosmos ecosystem.
Erhan Korhaliler, Founder of Istanbul Blockchain Week, said, "HAQQ's commitment to ethical blockchain solutions aligns with the mission of Istanbul Blockchain Week. This hackathon is an exciting opportunity to harness the power of collective innovation and inspire the next generation of developers. "In an industry where collaboration is key, events like this drive a wave of progress and change that goes beyond our immediate community to shape the global landscape of blockchain technology and ethical finance."
Istanbul Blockchain Week, which is set to take place at the Istanbul Hilton Bomonti Hotel from August 22 to 23, provides the perfect backdrop for this important event that celebrates the convergence of technology, finance and Islamic values ​​in a center renowned for its passion for crypto. throws light on. Web3.
About HAQQ
HAQQ is an ethics-first network of sustainability-focused developers, validators, open source contributors and Muslim innovators in sustainable finance. The innovative technology of HAQQ, an EVM counterpart chain based on the Cosmos SDK, allows seamless deployment of smart contracts from other EVM chains.
Using Sharia Oracle, an on-chain halal certificate registry that guarantees compliance with Islamic principles, HAQQ aims to create a fairer and more sustainable financial system by balancing a Sharia-compliant philosophy with cutting-edge technology. HAQQ minimizes unethical or haram activities within the network by ensuring that its users only interact with whitelisted and Sharia-compliant DApps. Learn more about HAQQ at haqq.network.
About Istanbul Blockchain Week
Istanbul Blockchain Week is an annual event that brings together blockchain enthusiasts, industry experts and thinkers from around the world. Following its phenomenal success in November 2022, which saw an impressive attendance of over 4,000 attendees and over 120 international and Turkish speakers including Yoshihisa Hashimoto, Changpeng Zhao, Zia Altunyaldiz and Shant Manukyan, IBW Turkey's leading cryptocurrency hub is returning Getting ready to return.
22-23 August. Istanbul Blockchain Week, a dynamic platform for networking, knowledge sharing and discovering the latest developments in blockchain technology, creates an environment conducive to collaboration and innovation. The event offers attendees a diverse program that includes keynote addresses, panel discussions, workshops and exhibitions that explore various aspects of Web3.
Istanbul Blockchain Week provides a unique opportunity for individuals to immerse themselves in the world of blockchain and connect with like-minded visionaries who are actively shaping the future. To learn more about HAQQ, visit istanbulblockchanweek.com.