Last Friday, the SEC delayed Arc Invest's decision, not confirming or denying its spot bitcoin ETF decision.
Have a nice week everyone. While the annual CPI in the US rose 3.2% on Thursday last week, less than expected, the core consumer price index, which excludes food and energy and is the most important indicator the Fed uses in inflation, was reported at 4.7. . ,
Contact us to be notified immediately about last minute developments.
Twitter
They
Wire
You can follow our channel.
On the other hand, international credit rating agency Fitch Ratings downgraded USA's long-term credit rating to "AA+" from "AAA" and changed the outlook to stable from negative. Thus, the credit rating of USA was downgraded for the first time in 12 years.
You can see the dates for the Bitcoin Spot ETF applications compiled by Bloomberg with the tweet I quoted from the Cointelegraph Twitter page:
We will get the details of the Federal Open Market Committee (FOMC) meeting on Wednesday this week. These minutes will guide us on the Fed's decision at its September meeting.
economic calendar
Tuesday, 15 August 2023
It will be listed on SEI Bybit, Gate.io, MEXC, BitGate, KuCoin, Kraken.
Cyber ​​is listed on the Binance exchange.
Wednesday, 16 August 2023
UK – Consumer Price Index (CPI) (yo) expected: 6.8% Previous: 7.9% – 09.00
USA – Federal Open Market Committee (FOMC) meeting minutes to be released – 21.00
17 August 2023 Thursday
USA – Applications for unemployment benefits expected: previous: 248k – 15.30
Friday, 18 August 2023
Euro Zone – Consumer Price Index (CPI) (YoY) Expected: 5.3% Previous: 5.5% – 12.00
bitcoin technical analysis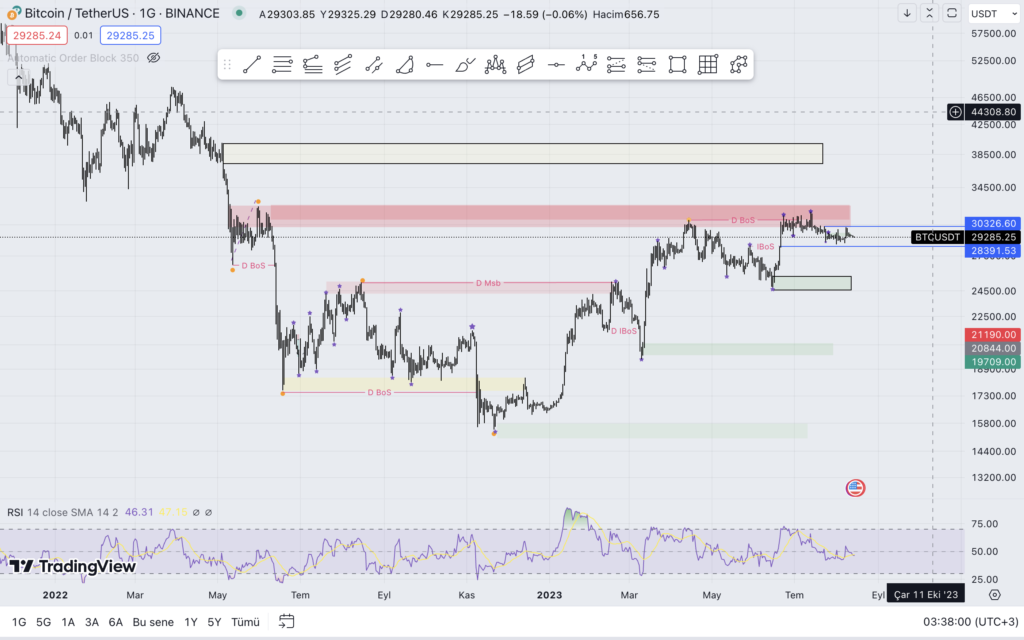 Bitcoin continues to move sideways between the $29,400 – $30,400 level. A move to the next level at $31.400 will not be possible unless the candle closes above the 30.400 level indicated by the blue line on the daily chart. For a downside move, if the candle closes below the 28.400 level, the price will decline to the $25.750 – $24.500 level as indicated by the green box.
Bitcoin Perpetual Futures Contract Clearing Volume
Derivatives volume includes the total dollar amount traded in 24 hours for perpetual swap contracts on top exchanges. Total volume is calculated by multiplying the total number of contracts traded by the dollar value of each contract.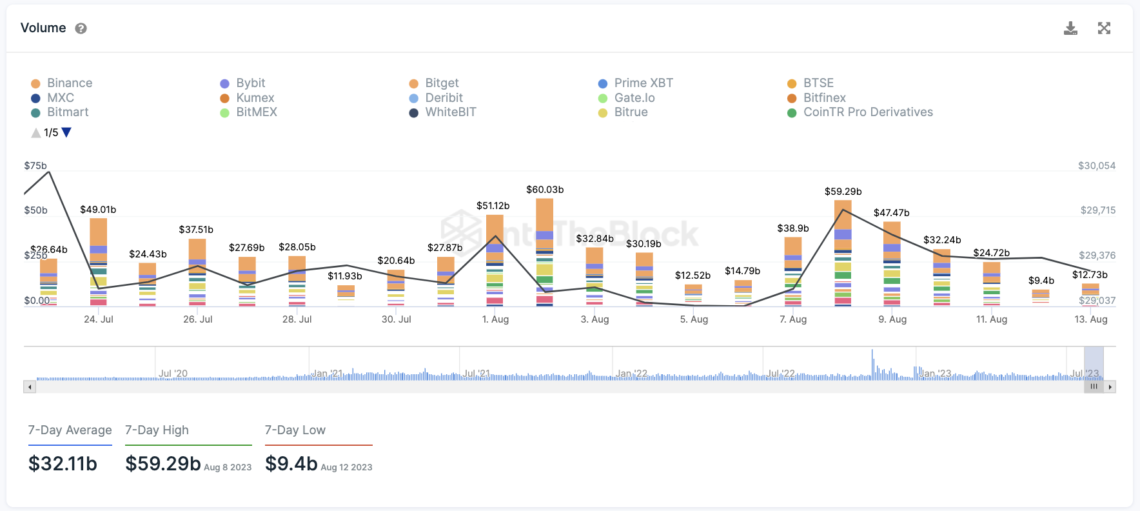 Like the spot markets, derivatives volume can act as an indication of the trend strength of price action. For example, on October 20, 2020, when bitcoin reached $12,000, high derivatives volumes were observed, indicating a strong belief among traders that the price would rise.
Top Emerging Cryptocurrencies of the Last Week
Rollbit Coin (RLB) %53,6
Thorchen (Rune) %48,5
Black pepper (black pepper) %17.6
Toncoin (TON) %16
Shiba Inu (SHIB) %9,6
Last Week's Exclusive Cryptocurrency News
SBF sent to jail before trial
According to the US Department of Justice, Bankman-Fried, the 31-year-old former CEO of FTX, manipulated several files in violation of the terms of the bond. It was stated that, according to the defense team, Bankman-Fried had contacted former FTXUS General Counsel Raine Miller and watched the Super Bowl on a virtual private network, and that these actions caused her to again be indicted for violating bail conditions. Detained.
Coinbase's network base has reached 136,000 active users!
In a post published on August 10, data platform CryptoRank said that zkSync ranks fourth in daily transactions among base layer-2 solutions, behind Arbitrum and Optimism. Coinbase Network, which in such a short time closed in on the fourth place and passed 136,000 active users, continues to surprise with its data.
SEC Delays Arc Invest's Spot Bitcoin ETF Decision
The SEC announced in the Federal Register that it has begun a 21-day comment period for the ARK 21Shares Bitcoin ETF. This period is a recognized period for the public to express their opinion on the ETF. ARK Investment Management first filed its application in May, giving the SEC up to 240 days to make a final decision. This decision is expected to be taken by January 2024.
Curve Finance continues to recover stolen funds
Curve Finance has successfully recovered 70 percent of the nearly $50 million in funds lost in the recent cyberattack, largely alleviating concerns among users and partners.
The funds from the attack that took place were either returned directly by the various hackers involved, or retrieved through ethical operators of MEV bots, such as c0ffeebabe.eth.
The SEC Settles With Bittrex and Its Former CEO
In an August 10 announcement, the SEC said that Bittrex and Bittrex Global agreed to pay $14.4 million in liquidation, $4 million in pre-order interest and $5.6 million in civil penalties to settle a legal dispute with the federal regulator. Happened. The settlement must be approved by the court.