A recent Greenpeace report highlights the price imbalance between train and air, up to 30 times in some cases, while air pollutes up to 80 times more.
you will also be interested
(on video) 5 extraordinary trains! Know about 5 such trains which really run off the beaten path. From Maclong Market,…
On arrival at the station, SNCF now thanks TGV passengers" To choose the most ecological mode of transport ". The facts give reason to the French public railway company because according to Adem, air transport represents 41% of the carbon footprint of the tourism sector and more than 7% of France's carbon footprint. On some journeys, the global climate impact of aircraft 80 times more than by train, for example on the Lille–Lyon journey. It is still necessary to have the wherewithal for your ecological ambitions, as underlined in a recent report by Greenpeace, which shows that Europe Traveling by train is on average twice as expensive as traveling by plane.
Train up to 30 times costlier than airplane
In total 79 out of 112 routes analysed, on the same dates the plane is cheaper than the train, sometimes up to 30 times on the Barcelona-London link! This is even more true when several railway companies are involved in the journey, and therefore there are separate tickets for each of them. according to the report, " The price can also vary from operator to operator: thus a Paris–Berlin ticket will be almost three times cheaper on the Deutsche Bahn website than on the SNCF website (€79 compared to €207). ". Low cost airlines are also cheaper than train in almost all cases, due to very aggressive pricing strategies, often less than the actual cost, sometimes with a ticket to France as low as 1 euro…
France on the stage of worst results in Europe
On 17 of the 20 routes analyzed from France, trains are also 2.6 times more expensive on average. The result is that on the European scale France is placed in a sad third place after the United Kingdom (4 times) and Spain (3.9 times). On some routes, such as Paris–Valence, the ratio is even 8, and up to 12 for a typical day, 6.7 for the Marseille–London route. 19 of the 20 lines analyzed are also operated by a low-cost company… With such differences, how can you seriously encourage the population to choose more ecological means of transport, when the Paris- Valence train costs 322 euros compared to 25,99 euros by plane?
84% of youth are in favor of rebalancing tariffs
According to Alexis Chaloux, Sustainable Travel Campaign Manager for Greenpeace France, " This report, backed by data, demonstrates what everyone who travels in Europe has already experienced: a confusing price difference between the price of plane tickets and train tickets for the same trip. To reverse this trend, it is imperative to remove the old tax exemptions to the airline sector. This will enable massive investment in the rail network and make trains more accessible ". In particular, as shown by the barometer of young people's travel habits, 84% of French youth favor a rebalancing of prices between plane and train tickets.
Unfair taxation between train and plane
In line with its dossier on eco-responsible and low-carbon travel, Greenpeace devotes the final section of the report to solutions for rebalancing the relationship between rail and air. Because if trains are often very expensive, then planes are sometimes disproportionately cheap, especially because of unfair taxation. , While airlines pay neither kerosene tax nor VAT on international flights and benefit from subsidies financed with taxpayers' money, railway companies have to pay energy tax, VAT and significant railway costs in most countries. "Is it explained. For France, the shortfall is estimated at 4.7 billion euros per year, which could increase to 6.1 billion euros in 2025 in the event of a full recovery of traffic.
Social Pricing and the Climate Stamp
Money that could be invested in re-introducing night trains in Europe, strengthening social pricing on long-distance trains, or even introducing "climate tickets" in France, as That's 49 Euros per month for unlimited access in Germany. Buses, metro, local and regional trains, except high-speed trains. A unified EU-wide ticketing and payment system would also boost rail travel with multiple operators. In any case, there is urgency, as air traffic in Europe is now returning to its pre-pandemic level, and finally very low cost plane tickets mainly benefit those with a certain amount of capital . Cultural and economic, then according to Gifas, about 40% of the population of France has never flown.
,
The new issue of Mag' Futura " How does the universe affect us? Available on newsstands now:
i look for magazine future on the newsstand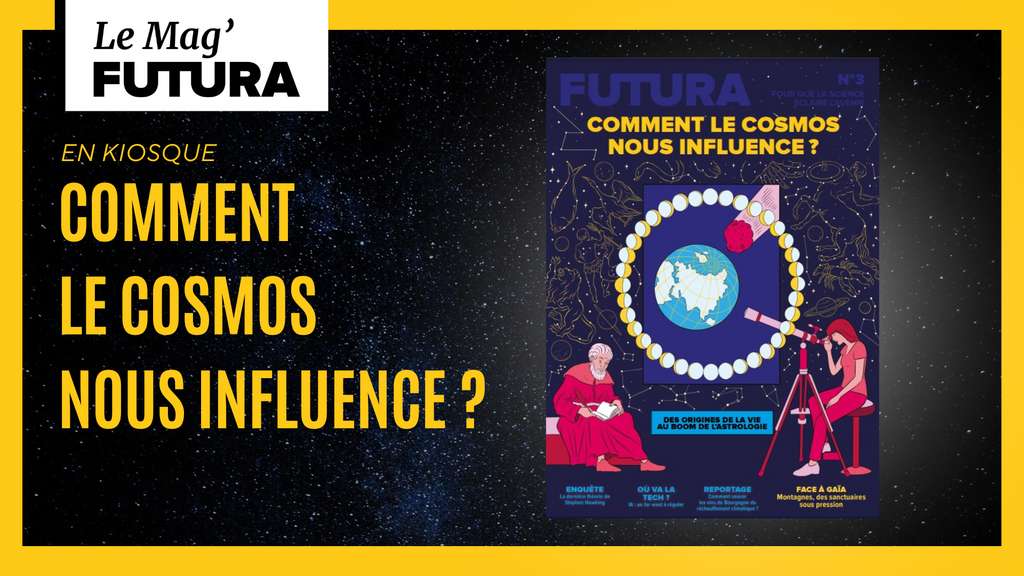 In this new issue, find:
1 Central File: "How Does the Universe Affect Us?" ,
1 Preliminary file on environmental issues: "Confronting Gaia – Mountains, Sanctuaries under pressure";
And many other formats to better understand the world and preserve it: The Beast of the Quarter, The Mechanics of Beauty, Where Is Technology Going?, Cosmic Knowledge, Science in Comics…