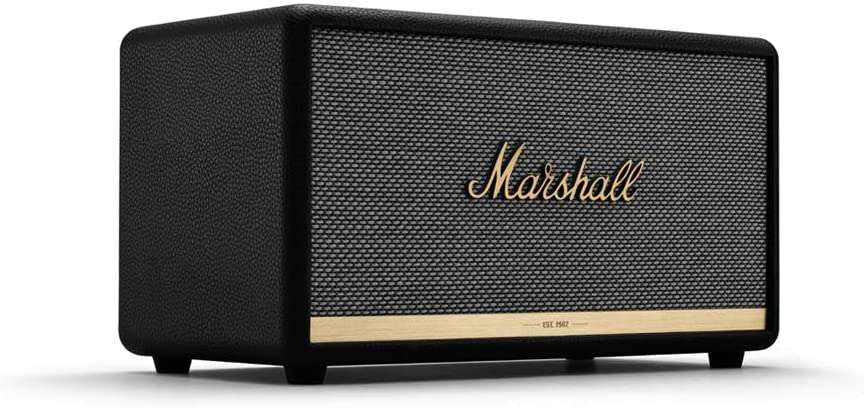 Bluetooth speakers are practical to use and some models are both aesthetic and efficient with no compromises! Thanks to these devices, we can listen to music in all the rooms of the house to enjoy our favorite playlist and start the day well. Marshall Stanmore II Bluetooth speaker featured on promotion on Amazon, it costs €369 to €269.99,
Marshall Bluetooth Speakers, High-end Speakers
This Marshall Bluetooth speaker is equipped with responsive and high-end speakers. It impresses music professionals with its sound reproduction and vintage-chic design. The speakers give the impression of being a miniature version of a guitar amplifier. The materials used are of high quality, the case is solid and resistant to shock as well as signs of wear and tear, the device is sturdy and designed to last. The most demanding audio lover will be satisfied with the audio performance of the Marshall Stanmore II loudspeaker. Bluetooth connectivity allows a smartphone, tablet or computer to connect to the device. Two users can connect to the Marshall speaker simultaneously with multi-user functionality. Its dimensions are as follows: 35 x 19.5 x 18.5 cm.
Unparalleled audio performance and iconic vintage styling
You can customize the sound using the analog controls on the speaker's top panel or the Marshall Bluetooth app. Adjust the music according to your needs! The Stanmore II speaker is certainly the most versatile of the Marshall range, being used in both small and large venues. Your devices will be connected to the speaker up to 10 meters away. Lovers of vintage will definitely love the Stanmore II speaker! This speaker is one of our favourites, it's iconic and the sound is accurate even when the volume is maxed out.