Did you know that you can earn Bitcoins by playing Minecraft? Satlantis, a Minecraft server, allows users to earn Bitcoin while playing the game. Players can enter a virtual mining pool that pays players real Satoshi (Sats) every 10 minutes.
How to earn bitcoins in minecraft?
Satlantis is a Minecraft server that can be accessed on computers via Minecraft: Java Edition. Server IP is play.satlantis.net.
To stay updated with the latest developments, follow us
Twitter
They
Wire
You can follow it on our channel.
Anyone can enter Satlantis and play the game, but to earn Bitcoin you must have a virtual ASIC miner (the type of miner that is also required for Bitcoin mining in real life) and then feed it with emeralds. will be. This will increase your hashrate (visible on the right side of the screen), meaning you will be entered into a draw to win one Bitcoin Sliver every 10 minutes.
The lowest tier ASIC miner adds 10 to your hashrate, but you can have an ASIC miner that generates up to 45 hashrate for you. To calculate your chances of winning, you need to divide your hashrate by the global hashrate shown on the screen and then multiply by 100.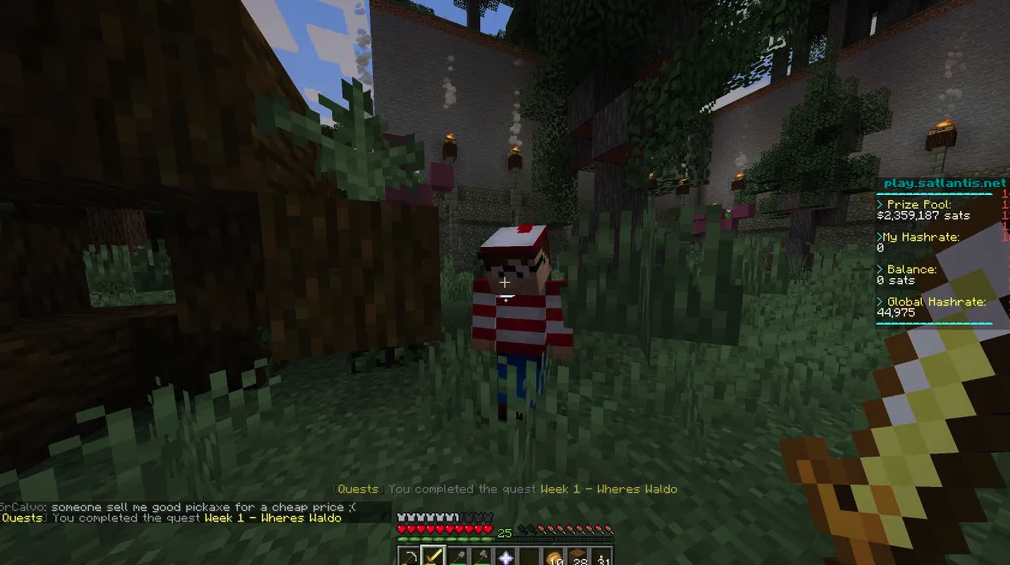 How can I get an ASIC miner on Satlantis?
There are two ways to get ASIC miners into Satlantis: through the Battle Pass or the Marketplace.
The Battle Pass, which you can access by typing "/bp" in in-game chat, is available in free and paid tiers. In Season 3, which is the current season as of this writing, you need to reach level 51 in the free Battle Pass before you can get the "Elliptical Key", which allows you to retrieve an ASIC Miner via the "Elliptical Chest". allows for.
If the 51 stages in the free Battle Pass seem a bit too intense for you, the Premium Battle Pass gives you an elliptical key at level 10. A Premium Battle Pass through Stripe costs $40 or 120,000 Satoshi.
To level up the Battle Pass, you actually have to actively work on it; Your missions are rarely completed as a byproduct of normal play. "Where's Waldo?" Such are the fun tasks. However, there are more challenging challenges, such as "causing 10,000 points of damage to a player."
How to Withdraw Bitcoin from Satlantis?
When you're ready to withdraw cash, simply type "/withdrawal" followed by the amount you want to withdraw. You will then be asked to enter your Lightning Network address. After doing this you will have to wait for 48 hours for the transaction to take place.
Satlantis servers are an attractive way for players to earn Bitcoin while playing one of the most popular games of all time. Getting started can be difficult, but the guide above will help you get your bearings, and feel free to ask questions on the server's Discord or in-game chat as the community is very supportive of newcomers.