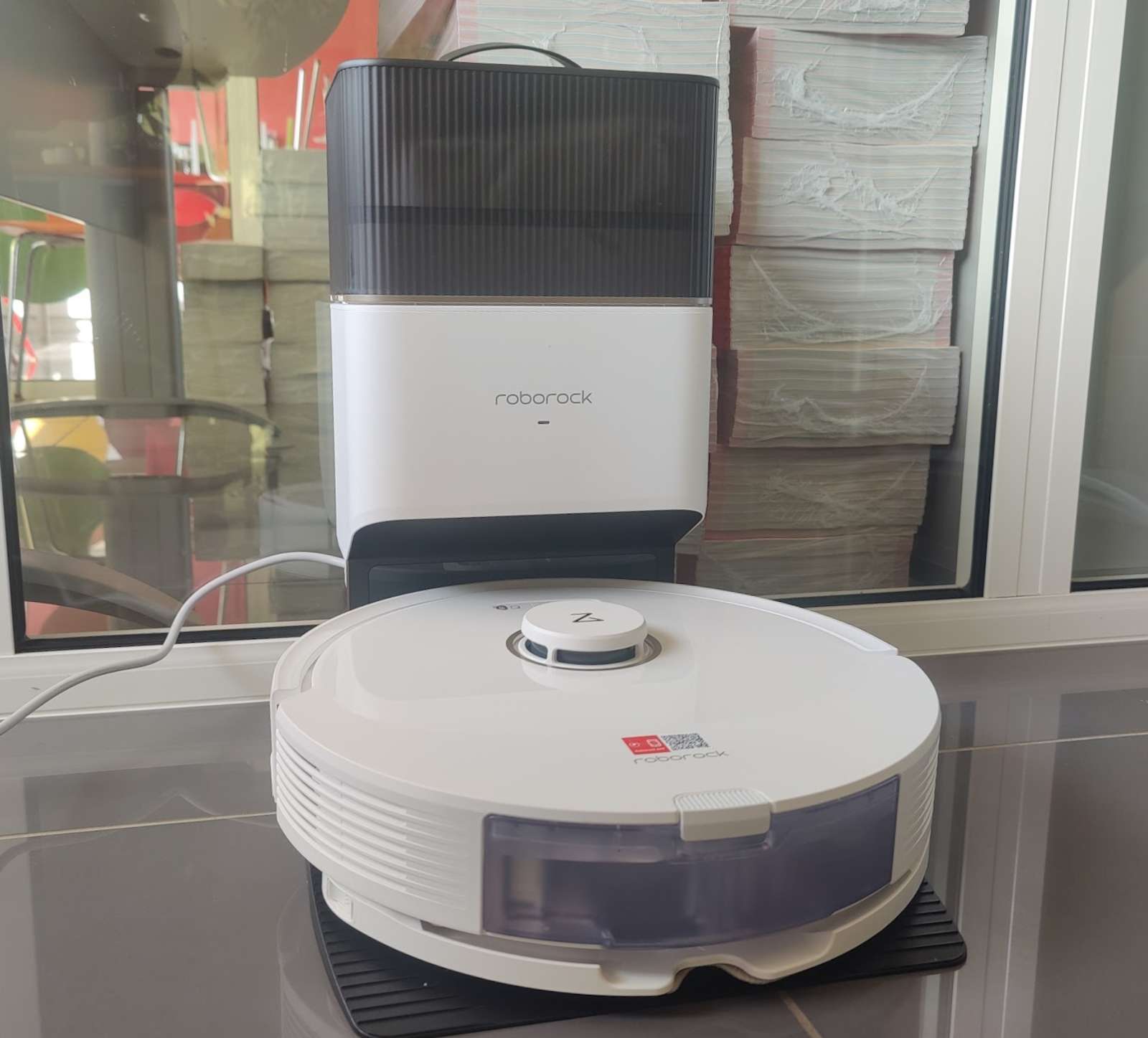 You will also be interested in this
(on video) 5 tips to heat your home cheaply In 2020, French people's annual heating bill was on average 1,602 euros…
If there is any brand of robot vacuum cleaner with a very good performance/price ratio, it is undoubtedly Roborock. The Chinese brand has also managed to democratize these devices that were previously owned by American manufacturers with expensive models. It is always with this spirit that Roborock is revamping its range with its new series of robot vacuum cleaners. The one we tested is the brand new Q8 Max in "Plus" (+) version. Here, too, at a lower price, you get the equipment and performance you typically find in higher ranges. While it is sold for 699 euros, the Q8 Max+ benefits from a huge discount that brings it to 479 euros! With this price, it certainly keeps its detail well: it maximizes and even goes much further.
Unlike its counterpart Q8 Max (currently 499 euros with a reduction of 389 euros), which has the same functions, this "Plus" version comes with a special docking station. When you unpack the device, you must first assemble the base of this station into the bin that allows you to vacuum the contents of the robot after cleaning. For this, Roborock provides an Allen key with a cruciform tip on the bottom of the base.
quick initialization
First of all, and to benefit from all the settings, it is necessary to download the Roborock application from the mobile app store (iOS, Android). Then you have to create an account Via An email address. A code is sent to verify this account. Now comes the time to connect with home Wi-Fi network and mobile. To do this, simply press and hold the two function buttons on the vacuum cleaner continuously, then from the app, select the network and enter its code. At the end of this operation, you can have the robot begin its first location mapping operation. Here again, it is Via The application in which the settings are made. This is where you can determine whether it is just a single level surface or multiple levels. The robot will then move around, groping and moving around to create this map that can be displayed in 3D. This map also allows you to know the surface to be cleaned and the time it will take. During this maneuver, the robot will also place blocks in places where it has identified difficulties. For example, this occurs especially at the top of stairs.
An original double brush system to increase efficiency
After this operation, proceed to cleaning. Here too, we can make some adjustments from the application itself. There are several power options available, including deep cleaning. And for example, to remove all the dirt stuck in the carpet, the robot is introducing a new brush technology called Duoroller. As its name suggests, on the bottom of the device, instead of having a single brush to scrub the floors and clean them before vacuuming, there are two brushes with rubber blades that are almost fused. These two brushes rotate in opposing ways. According to the manufacturer this procedure is expected to improve hair collection rates by 20%. In practice, it is true that it is quite effective. It should also be added that the suction power has gone up a notch compared to the older models. It has now reached 5,500 Pa. To save time, i.e. reduce cleaning time by 30%, a rapid suction option is available. But be careful, "fast" doesn't mean it's done poorly!
This robot has a compass in its eye
When it comes to navigation, the Q8 Max knows how to find the most relevant path to optimize your floor cleaning. To do this, it uses pre-established mapping and uses its LiDAR, i.e. a real radar, to update itself on obstacles and find its way. Even better, it manages to remove the dirt that accumulates between the floor panels using the correct trajectory. Practical, especially if it is parquet floors!
An intelligent obstacle avoidance system
One of the drawbacks of robot vacuum cleaners is that they usually collide with furniture, people or animals during their work. The rotating brushes then become entangled in cables or shoelaces. And since it's not always easy to properly prepare the work area for a robot vacuum cleaner, in the case of the Q8 Max+, it's one that's tailored for you! To avoid getting too close to an obstacle, the Q8 Max+ is equipped with a system called Reactive Tech. This process allows it to be bypassed directly so you don't have to pick up anything lying on the ground.
Its application was designed to facilitate its settings. They are numerous, we find the mapping of rooms, it is also possible to create exclusion zones with the touch of a finger. This is where we choose to apply the water flow level, or power of the vacuum cleaner. As a bonus, the application also has a special lock that prevents children from using this household fairy as a toy by directly pressing its buttons.
An integrated mop for washing floors
The robot is not limited to just vacuuming, but it also knows how to mop the floor at the same time. With its mechanical nozzle system, it is also possible to adjust its water flow to 30 levels, which is phenomenal. Water comes from a 350 ml capacity tank which is robotically dispensed for filling. Be it vacuuming or washing, the robot is quite durable. Its 5,200 mAh battery gives it autonomy allowing it to treat up to 300 square meters of surface area.
More peace of mind with a dust collection station
As you might have understood, this Q8 Max+ edition has a special docking station called RockDock Plus. When the robot reaches it, a large suction lasting several seconds is activated to empty the contents of the bin into a bag placed in the station tower. With this process, you only need to replace the 2.5 liter dust bag every seven weeks, or at least when it's full. It's enough to completely forget what vacuuming even means… On the other hand, you have to manually fill the mop's water tank.
Do you know ?
A Q5 Pro positioned in the mid-range already does a lot!
With an even lower price (349 euros) and a good reduction to bring it down to 289 euros, it is possible to opt for the manufacturer's Q5 Pro. It also has its own double brush system and advanced navigation system. On the other hand, its water tank is small and it is not equipped with very practical obstacle avoidance technology. It doesn't even have a dustbin emptying station. It is only available in black, unlike the Q8 Max+ which also comes in white.
To find out, it's here!
Article written in partnership with Roborock