Memecoin (MEME), one of the new projects in the crypto market, increased by more than 40 percent during the day.
Memecoin, one of the last crypto projects listed on Binance, managed to attract intense attention. Memecoin, the fourth memecoin listed on Binance after Dogecoin, Shiba Inu and Floki, has raised great expectations. Positive market conditions were also a major factor in the progress of the Memecoin project.
To stay updated with the latest developments, follow us
Twitter
They
Wire
You can follow it on our channel.
MEME, the project's native token, achieved a sensational rise during the day. MEME became one of the biggest rising cryptocurrencies of the day with an increase of over 40 percent.
Memecoin (MEME) is on its way to the top
Popular memecoin project Memecoin (MEME) recorded a rise of 45 percent during the day. This growth made the MEME token one of the most talked-about cryptocurrencies at the time.
MEME attracted reactions, falling to $0.0015740 on November 9. The decline on this date suggested that the bullish trend was over and the price of MEME would fall further. However, MEME made a sensational debut as market conditions turned positive. MEME set $0.0015740 as the lower zone and gained almost 100 percent from this zone. This increase in four days reminded of a new memecoin craze. Recently, there was an increase of 10 percent from SHIB also.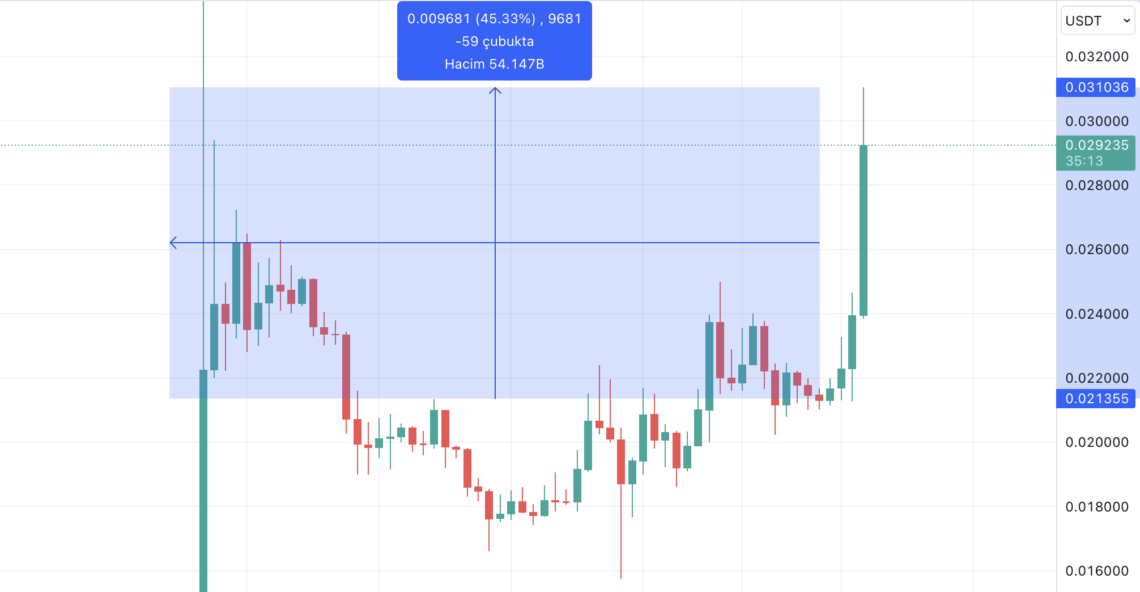 By November 13, when MEME experienced a major breakout, bearish expectations increased. Many opinions state that the price action on the MEME side is artificial and a serious retracement may occur. If MEME continues its uptrend, it could sustain above $0.02950. If the price remains in this area, $0.031 could be exposed for MEME. The $0.031 resistance appears to be an area where selling pressure will intensify. If this zone is breached, MEME could set the highest price point since November 3. The next target for MEME will be $0.035.
On the other hand, MEME may experience severe downside as selling pressure increases and market conditions turn negative. A pullback from MEME could engage the $0.027150 support point. If this support point is lost, MEME price may soon drop to $0.024. In this overall bearish scenario, the key support point would be $0.021850. This area turns out to be an important price level where buyers can dominate. If the $0.021850 support is lost, the uptrend for MEME will end.