Avalanche (#AVAX), which fell to $16 as BTC fell, moved closer to $20, contrary to those who expected a decline.
The cryptocurrency market faced a huge fall yesterday. BTC experienced a 5 percent decline during the day. BTC, which fell in an environment where the market was making positive progress, also made traders worried. With the decline in BTC, there was an outflow of funds from altcoins and many altcoins lost more than 10 percent in value.
To stay updated with the latest developments, follow us
Twitter
They
Wire
You can follow it on our channel.
Affected by BTC's decline, AVAX declined by 7 percent. Due to this decrease, the price of AVAX decreased from $17.50 to $16.21. However, by November 15, AVAX made a move that was the opposite of the bears. The price of AVAX is up nearly 20 percent since last fall.
AVAX does not stand still: $20 could be broken!
Avalanche (AVAX), which fell to $16.21 along with BTC's 5 percent decline, made a great comeback. Within no time, the price of AVAX rose to $19.5. AVAX, which survived the decline and continued its rise from where it left off, may break $20 with this FOMO.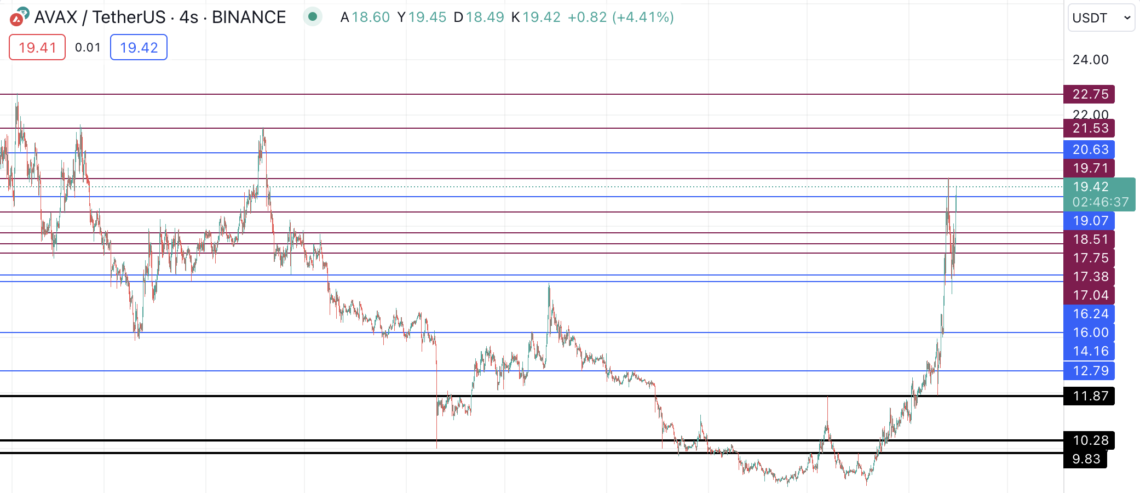 The AVAX chart shows that the bullish trend continues. AVAX price returned to $16.21, indicating that its potential rise will continue. AVAX, which attracts attention with its percentage increase during the day, is moving towards $20.
Looking at the charts, AVAX price is facing resistance at $19.71. This resistance point turns out to be the highest price level of the week. If there is a break above $19.71, AVAX could test immediate resistance at $20.63. Testing $20.63 and holding the price above $20 could accelerate the bullish trend. Solana (SOL) lagging behind the rally, the leading coin focused on $22.75 as the ultimate target. If AVAX breaks above $20.63, it could test resistance at $21.53 and $22.75 respectively. Positive progress suggests $22.75 could be tested. However, the structure of the crypto market is such that it can turn negative at any time. Therefore, AVAX traders should be careful.
On the other hand, in a possible bearish scenario AVAX could test the support of $19.07 in the near term. The coin, which would look to gain strength from this support point, may retreat to the support at $18.51 if it faces selling pressure. If AVAX starts a bearish move, it will try to gather strength in the $17.75 and $17.04 areas. If this area is lost, AVAX could retreat to $16.21, the low area formed in the previous day's decline. Whether AVAX will remain in a bullish trend depends on the key support point at $16. If this support point is lost, there is a possibility that AVAX price could drop to $11.87.