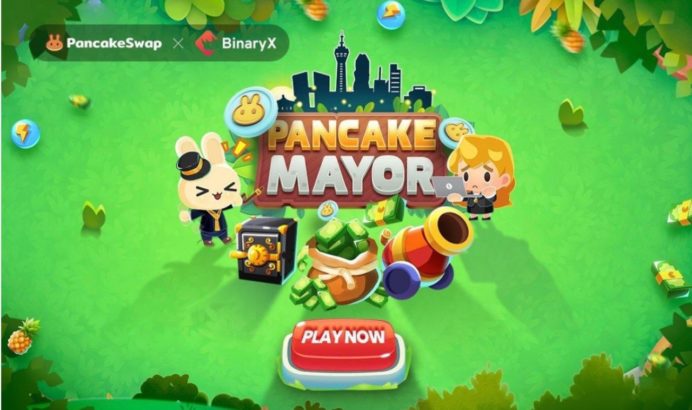 BinaryX, a GameFi and Initial Game Offering (IGO) platform, today announced the launch of Pancake Mayor, a new city-building simulator on the newly launched PancakeSwap gaming marketplace.
Pancake Mayor is a free-to-play casual city building game where players can earn Mayor Cash, the in-game currency, to upgrade and build their cities inspired by famous cities around the world. Players can collect Mayor Cash by playing wheel-spinning mini-games, plundering other players' cities, and participating in special events.
Binaryx attracted attention with its activities for Pancake Mayor!
To stay updated with the latest developments, follow us
Twitter
They
Wire
You can follow it on our channel.
"We designed Pancake Mayor for the casual gamer – providing a fun, light-hearted and rewarding experience for our users," said Rudy S., BinaryX Growth Manager. "Pancake Mayor is the first of many hyper-casual games we will develop in the play-to-win space and will provide our players a new way to access, interact and win with BinaryX. We are excited to launch PancakeSwap's gaming marketplace to bring Pancake Mayor access to new users.
Hyper-casual games are becoming increasingly popular, and Pancake Mayor is positioned to attract a wide range of players. Easy to play and offering a variety of ways to earn rewards, this game is a great choice for casual and experienced players.
"PancakeSwap's gaming market marks an exciting new chapter in our ongoing commitment to improving innovation and user experience. "We invite our community, players and game developers to join us in building a vibrant, innovative and, above all, incredibly fun gaming ecosystem."
Watch the trailer of Pancake Mayor: