According to on-chain data, 56 percent of Chainlink investors became profitable, while daily LINK transactions increased by 436 percent.
Chainlink (LINK) took off in a rally that started with Bitcoin spot ETF news. One of the biggest rising cryptocurrencies in recent months was LINK. IntoTheBlock conducted on-chain research on Chainlink.
To stay updated with the latest developments, follow us
Twitter
They
Wire
You can follow it on our channel.
According to the data, LINK, which experienced a 76 percent surge last month, has finally made its investors happy. 56 percent of LINK investors made profits after a long period of time with the last increase. Additionally, daily LINK transactions increased by 436 percent.
Chainlink (LINK) makes data bulls hungry
On-chain data compiled by IntoTheBlock highlights the continued potential of Chainlink (LINK). The data contains surprising details.
According to Chainlink data from IntoTheBlock, the number of investors who were at a loss for a long time and finally made a profit with the latest increase has reached 56 percent. In the last bear market, 70 percent of LINK investors lost. While the possibility of selling pressure from profit-taking investors was on the table, Chainlink data revealed a different view. Chainlink's daily transaction count surged 436 percent from the month's low. The increased frequency of transactions on LINK appears to be a response to selling pressure.
There has been a corresponding increase in total transaction volume. According to IntoTheBlock data, LINK's daily volume last week was $515 million. The same transaction volume on the Chainlink network was seen in July 2022. Given the massive expansion after a year, LINK showed potential bullish momentum.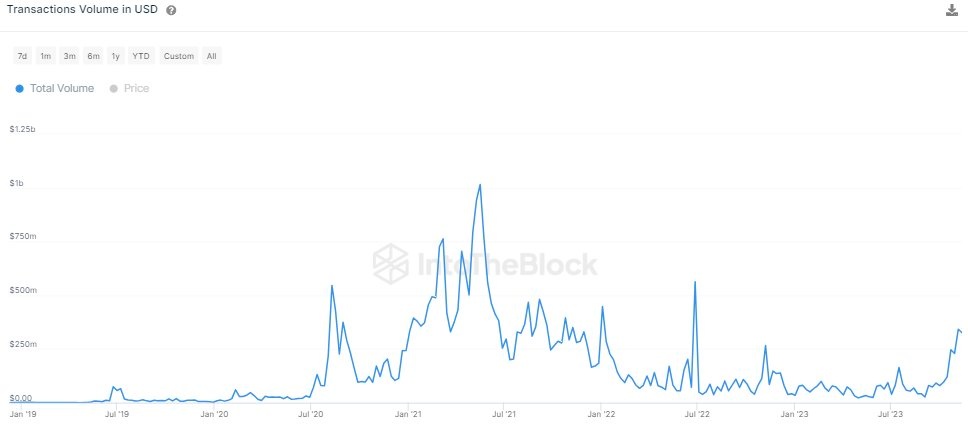 IntoTheBlock also covered whale dynamics in the data. Given the whales' activities, wallets holding more than 1 percent of the LINK supply continued to accumulate. Whales have accumulated 52,450,813 links in the last month.