Avalanche (AVAX) is experiencing a bullish run with $231 million worth of token unlocking, according to TokenUnlock data.
Avalanche, one of the leading projects in the crypto market, has become one of the most talked about projects of recent times. Avalanche's native token, AVAX, has increased by 175 percent in the past month. AVAX managed to rise above $20 with gains starting at $8.65. The sensational rise was linked to market positivity and the rise of Solana (SOL).
To stay updated with the latest developments, follow us
Twitter
They
Wire
You can follow it on our channel.
AVAX's growth has reached dazzling levels. However, according to TokenUnlock data, this growth could be eclipsed at any time. The data revealed that $231 million worth of AVAX will be unlocked on November 24. With the unlock, 10.24 million AVAX will be put into circulation.
Avalanche (AVAX) may impact unlock price
Avalanche (AVAX), which hosted a 175 percent surge in a month, will unlock a massive amount of tokens on November 24. According to data from TokenUnlock, 10.24 million AVAX worth $231 million will be unlocked.

Of the 10.24 million AVAX to be unlocked, 4.5 million will be transferred to the team. The average value of the amount transferred to the team is approximately $100 million. At the same time, 2.25 million AVAX will be sent to strategic partners. The partners in AVAX will have $50 million. Of the remaining AVAX, 1.67 million will be sent to the Foundation and 1.13 million will be sent for airdrop. While the amount transferred to the foundation is approximately $37 million, the amount allocated for the airdrop is approximately $25 million.
The size and distribution of the unlocking could potentially trigger a decline. Since AVAX price is already seen rising, it may soon drop below $20.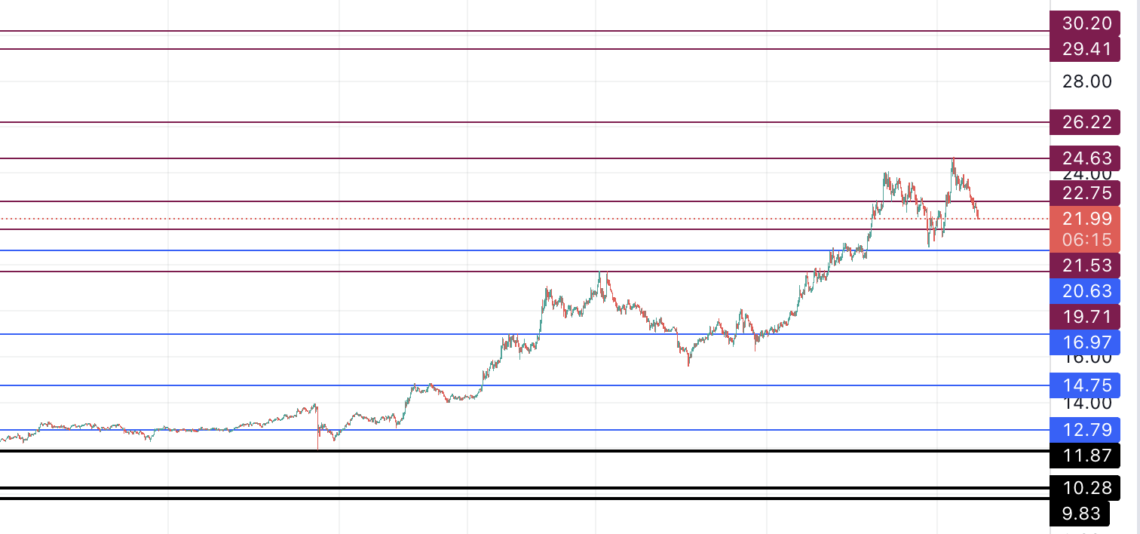 Looking at the charts, selling pressure could push AVAX price back to the support at $21.53. If it fails to gather strength from this support point, AVAX could drop sharply to $19.71. Although $19.71 is a strong support point, it can be easily broken due to the unlocking effect. This breakout could drop AVAX price to $16.97. On the other hand, if AVAX assumes a positive structure and price stability is achieved, it could reclaim $22.75. In this case, AVAX will soon test the $24.63 resistance. A break of $24.63 could push AVAX price to the $26.22 area.