YFI, which is also listed on major stock exchanges, drew allegations of manipulation following its sharp decline.
The cryptocurrency has seen a significant decline in the last few days. Altcoins faced selling pressure in the uptrend created by FOMO. The continuous fall of BTC to the $34,000 level triggered an outflow of funds into altcoins. On the other hand, interesting movements were also seen in many altcoins.
To stay updated with the latest developments, follow us
Twitter
They
Wire
You can follow it on our channel.
Decentralized finance (DeFi) project Yearly Finance (YFI) saw an increase of nearly 50 percent from November 14 to November 17. However, YFI saw a 40 percent decline during the day. This activity in the coin raised suspicions of manipulation.
YFI Surprised by Price: What's Going On?
Yarn Finance (YFI), which is listed on stock exchanges like Binance, Coinbase and Kraken, surged as much as 50 percent and fell as much as 40 percent in a short period of time. While the price volatility was surprising, allegations of manipulation emerged.
While on November 15, YFI was around 10 thousand dollars, on November 17 it increased by more than 15 thousand dollars. Later, YFI retreated and settled in the 14 bi dollar band. While it was expected that YFI would begin its uptrend and revive the DeFi sector, the sudden decline was surprising. YFI began to decline on the night of November 17 to November 18, ultimately falling by 40 percent. The price fell to 9 thousand dollars.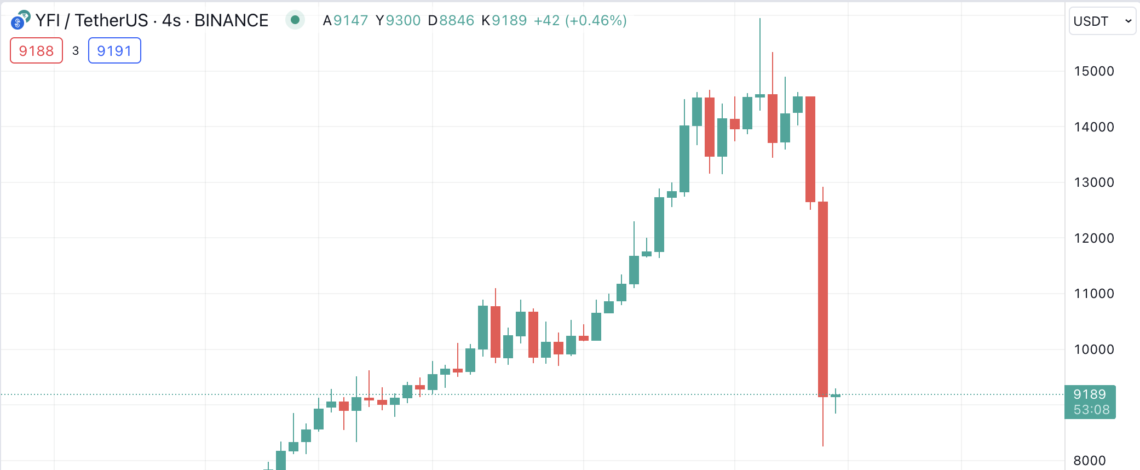 Following YFI's surprising decline, comes a new post from data analysis platform LookOnChain. Lukonchain confirmed that one whale had been sold for a large amount before the accident.
According to LookOnChain, whales sent $5.8 million of YFI to centralized exchanges. Before the cryptocurrency declined, he sold his YFIs at the level of $12,800. During the day YFI fell to 9 thousand dollars.
YFI, which equaled the highest annual price point, faced selling at its peak. According to the data, YFI is mainly held in 10 wallets. Looking at the whale sales confirmed by LookOnChain, it appears that the price was manipulated to inflate and sell. An
YFI is the most undervalued cryptocurrency today.