Render (RNDR) has attracted attention with a rise of more than 60 percent in the last five days.
Render, which attracted a lot of attention with its project and rose to the top in a short time, became one of the notable projects of recent times. RNDR has followed an interesting price chart with BTC over the past five turbulent days. Since last Wednesday, off-market, RNDR has surged more than 60 percent.
To stay updated with the latest developments, follow us
Twitter
They
Wire
You can follow it on our channel.
The rise of RNDR has been accelerated by the growing interest in artificial intelligence projects. While Sam Altman-based artificial intelligence was on the rise, RNDR was also involved in the trend.
Render (RNDR) ready for top 20
Render (RNDR), which is ranked 50th by market cap, joined the top 20 with a rise of more than 60 percent in the last five days.
The popular cryptocurrency RNDR was trading at around $2.3 on November 15. RNDR rose from $2.3 to $3.6 in five days. Additionally, RNDR managed to attract attention with its rise of 6 percent during the day.
According to CoinMarketCap data, the market cap of RNDR was $826 million on November 15, and reached $1.33 billion on November 20. Making a big jump, RNDR moved up the rankings based on market capitalization to 50th position. Additionally, according to the data, RNDR has experienced a 34 percent drop in volume in the last 24 hours. This indicates that volatility can occur at any time on the popular cryptocurrency.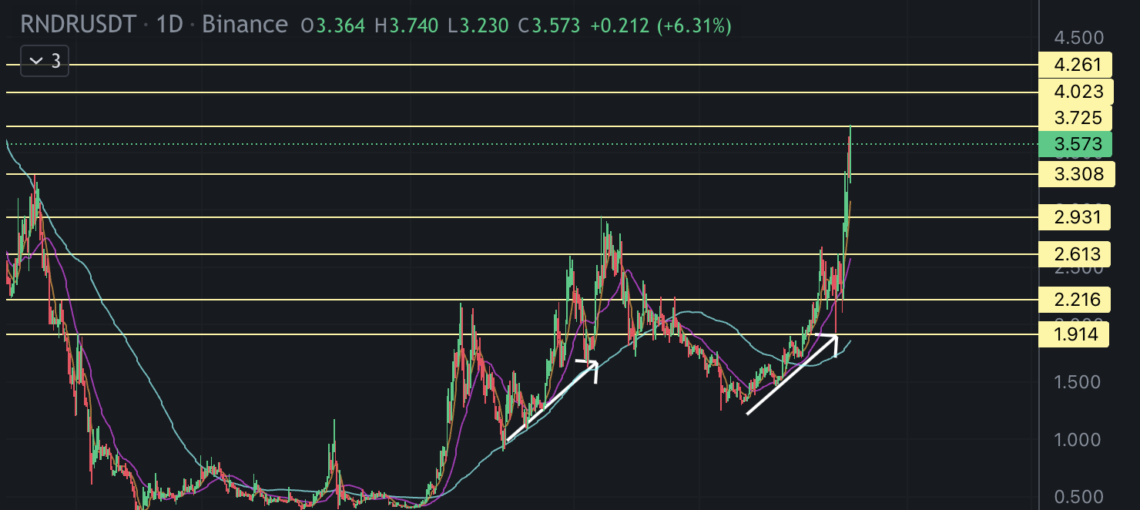 Looking at the RNDR chart it seems that the price is in a decision making phase. In a scenario where market conditions remain positive and BTC maintains its structure, a new uptrend could be seen for RNDR. RNDR will target the $3,725 resistance as long as it remains above $3,308. If this resistance point is broken, RNDR price may test $4. $4 stands out as an area where sellers are concentrated. Crossing this zone and staying above it could take the RNDR price to the $4,250 resistance in the short term. The rise in RNDR to $4,250 represents an increase of more than 20 percent. This increase could take RNDR to 40th place in the ranking based on market cap.
On the other hand, RNDR may disrupt its structure if selling pressure increases and market conditions become negative. If the structure on RNDR breaks, the price will target the support level at $3,308. If this support point is lost, $2,931 could emerge for RNDR. 2,931 has emerged as a strong support area. However, losing this zone could take the price to $2,613 in a short time. Another support point for RNDR will be $2,216.