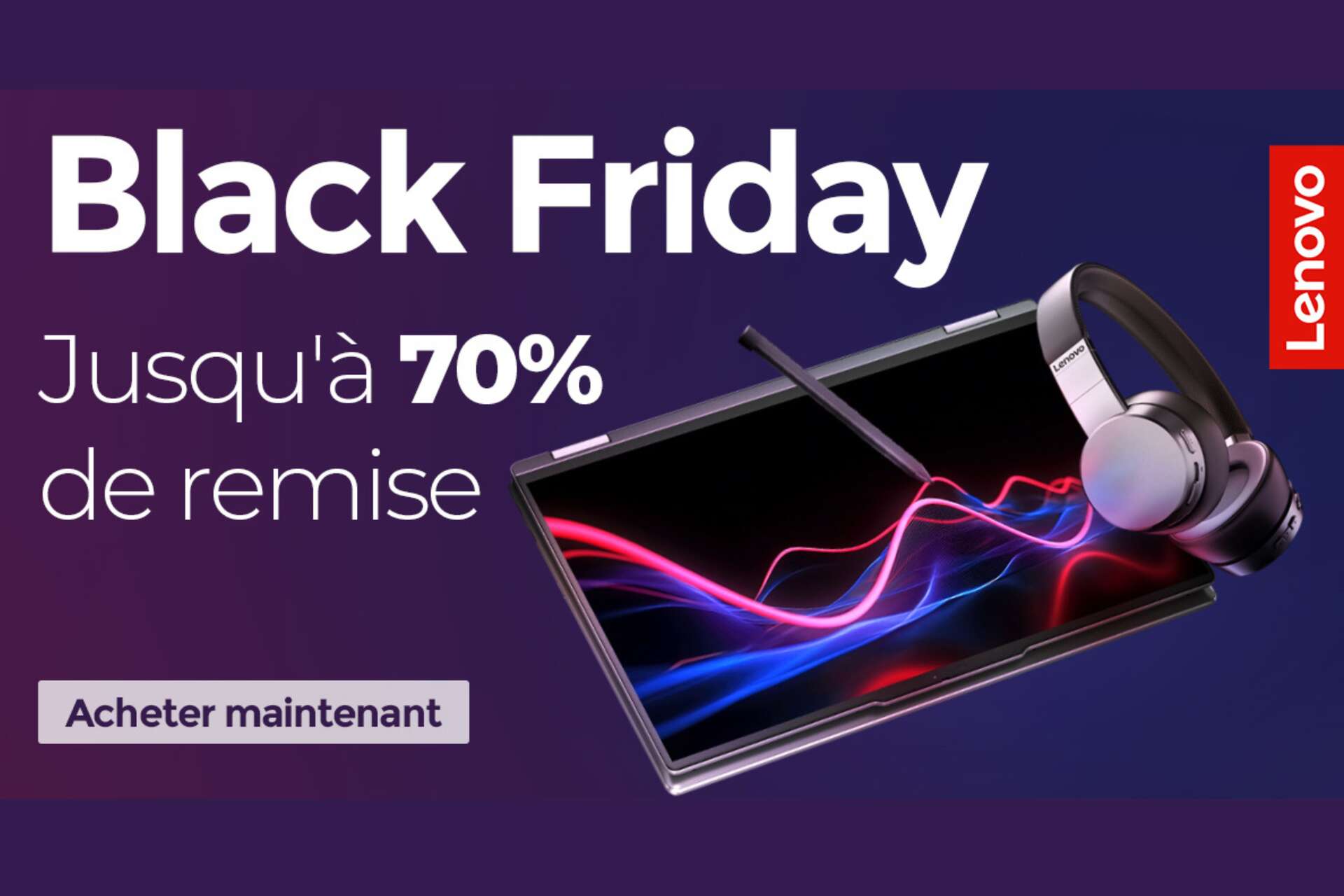 Black Friday is in full swing for brands ranging from Lenovo to many more! The perfect opportunity to learn a little more about what the brand offers and find the PC or tablet you need at the best price.
Do you need a new laptop or high-performance tablet? Trust the Lenovo brand to equip you. Furthermore, thanks to Black Friday, many references are on sale and the discounts are particularly attractive.
Black Friday discounts on Lenovo are back
Quality computer hardware can quickly become expensive. Promotions are very useful if you want to save money on your purchases. What's better than Black Friday? On Lenovo, the offers can be found from Friday November 17 to Monday November 27, 2023. You have 10 full days to find what you're looking for and take advantage of low prices on a range of items ranging from laptops and tablets.
Legion Pro 7 Gen 8 Laptop PC for Experienced Gamers
If you're a gamer, you know very well that hardware can make all the difference. Pick up this laptop PC for a price of €2,506.66 instead of €2,949.01, or a 14% reduction. It is powerful and powered by AI. Its screen has excellent WQXGA resolution and you can customize the RGB keyboard thanks to the keys with interchangeable keycaps.
IdeaPad Gaming 3 laptop, a great configuration for casual gamers
Are you new to gaming and play from time to time? Bet on an economical and efficient device with this model, which ranges from €749 to €599, or a 20% reduction. It has an NVIDIA® GeForce RTX™ 3050 4GB GDDR6 laptop graphics processor and its hard drive has a 512GB SSD. Its 15.6-inch screen is anti-glare and has LED backlighting. The keyboard is backlit for easy playing even in the dark.
Tab P11 Plus tablet, the perfect tablet for streaming
Find the perfect mediator between laptop and smartphone with this tablet. It's priced at €229.01 instead of €299.01, which is a 23% reduction. Its storage capacity is 128 GB and it works through Android 11 operating system. Thanks to its 11-inch screen, you'll be able to make the most of whatever video content you want to watch on it. Its webcam is ideal for taking videos as well as photos when needed.
IdeaPad Pro 5 Laptop PC, durable and efficient
A large number of documents and files are stored on this laptop PC equipped with 512 GB SSD. It is equipped with an AMD Ryzen™ 7 7735HS processor (3.20 GHz to 4.75 GHz) and an integrated AMD Radeon™ 680M graphics card. During Black Friday, this laptop goes down from €1,099 to €699 with a 36% discount. Its 14-inch screen has great resolution, ideal for watching videos or playing games. The touchpad is 25% wider for even more pleasant use. This computer is particularly solid and durable even in extreme conditions.
ThinkPad X13 Gen 2 laptop, thin and responsive
Thanks to a nice 47% reduction, this laptop PC goes from €1,699 to €899. Its 13.3-inch anti-glare screen is touch-sensitive for pleasant and easy navigation. This model is particularly light and slim so you can take it with you anywhere without any difficulty. Equipped with 11th generation Intel® Core™ processor, it is very fast and responsive so that you do not waste your time while performing your various tasks. It has 152 GB SSD.
Take advantage of Lenovo's offers without any delay during Black Friday and buy yourself a new device. Laptop or tablet, deals with a wide selection of promotional products.