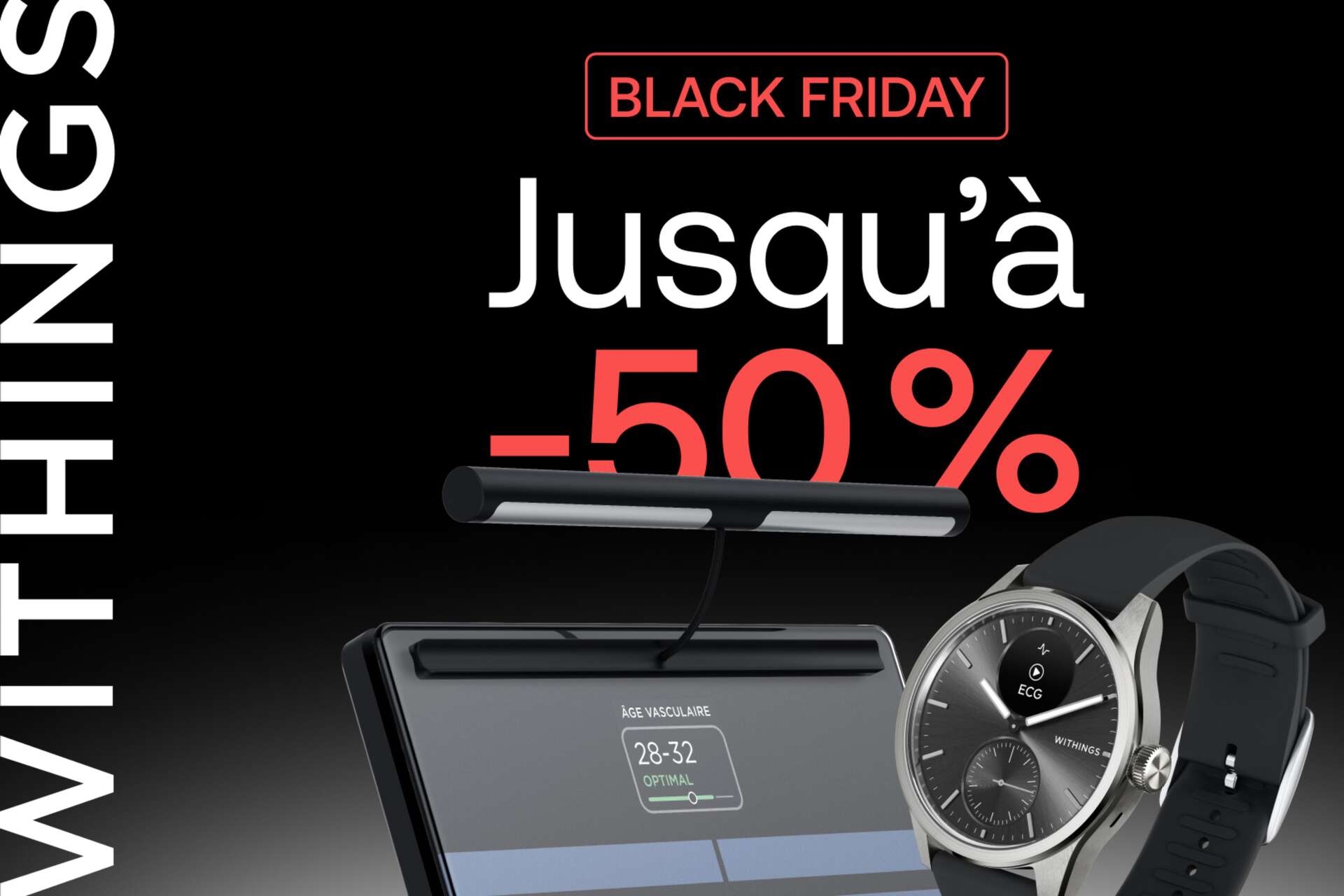 Much-awaited like every year, Black Friday is now offering its share of good deals. At Withings, the French specialist in connected medical objects, the discounts are particularly interesting. A promotional code allows us to offer you what you need or want.
Discover Withings offers for Black Friday 2023 now. The ScanWatch 2 connected watch and body scan scale are at a discounted price.
Black Friday Withings: Many discounts and a promo code available
Black Friday is an opportunity to treat yourself while saving big. At Withings, several promotions are already running, including:
Body Comp Connected Scale, at €149.95 instead of €189.95, with an immediate benefit of -€40.
Body Cardio (connected scale that monitors your heart health). -Due to the €50 instant benefit, it is available for €129.95 instead of €179.95.
"Buy One, Get One Free" offer is valid on all watch straps. By purchasing minimum 2 bracelets you will enjoy 50% discount on all bracelets in your basket.
Thanks to the promotional code FUTURA23, you can take advantage of an additional 10% discount on your purchase. This offer applies to all products in the online store, except bracelets. You can buy the ScanWatch 2 for only €314.95 instead of €349.95. You can also get a body scan for €359.95 instead of €399.95.
SW 2: A hybrid connected watch with extraordinary capabilities
ScanWatch 2 is a state-of-the-art connected watch that allows you to monitor your health on a daily basis. Its various specialized sensors provide it with specific functionalities. It can detect atrial fibrillation, heart problems, changes in your health condition, etc.
You can do electrocardiogram (ECG) recording upon your request. This makes it possible to specifically detect the most common form of cardiac arrhythmia, atrial fibrillation, which is responsible for about 30% of strokes.
The revolutionary TempTech24/7 module is one of the new features of ScanWatch 2. It continuously tracks changes in your body temperature. The SW2 can also detect your blood oxygen level using pulse oximetry.
Furthermore, the Scanwatch 2's very elegant design allows it to match all your outfits. It adapts to your daily life, becoming your best health ally day and night. For this you will appreciate its very long autonomy, which can reach 30 continuous days.
Body Scan Scale: A high-tech health station
Body Scan looks like a bathroom scale, but it's actually much more than that. This connected scale is a real health station.
Body scan will allow you to track your weight, your vascular age or your nervous activity very precisely. It can also analyze your body composition by using its handle, segmenting it into 3 major areas (torso, arms, legs). It compares fat mass to muscle mass with 3D visualization. Thanks to its specialized sensors, it can also perform a 6-lead ECG to assess your cardiovascular health.
With a Withings+ subscription, you'll get a global view of your health conditions. You'll also have access to exclusive content to help you achieve healthy habits.
Additionally, Body Scan can be used by the entire family, as it can recognize up to 8 different users. You can configure it according to your individual situation, for example, with pregnancy, baby, eyes closed or athlete mode.
Thanks to Black Friday, equip yourself with high-end items at low prices, allowing you to monitor your health on a daily basis. Thanks to the Withings app, you will consult your measurements, but also transmit them to your personal doctor.