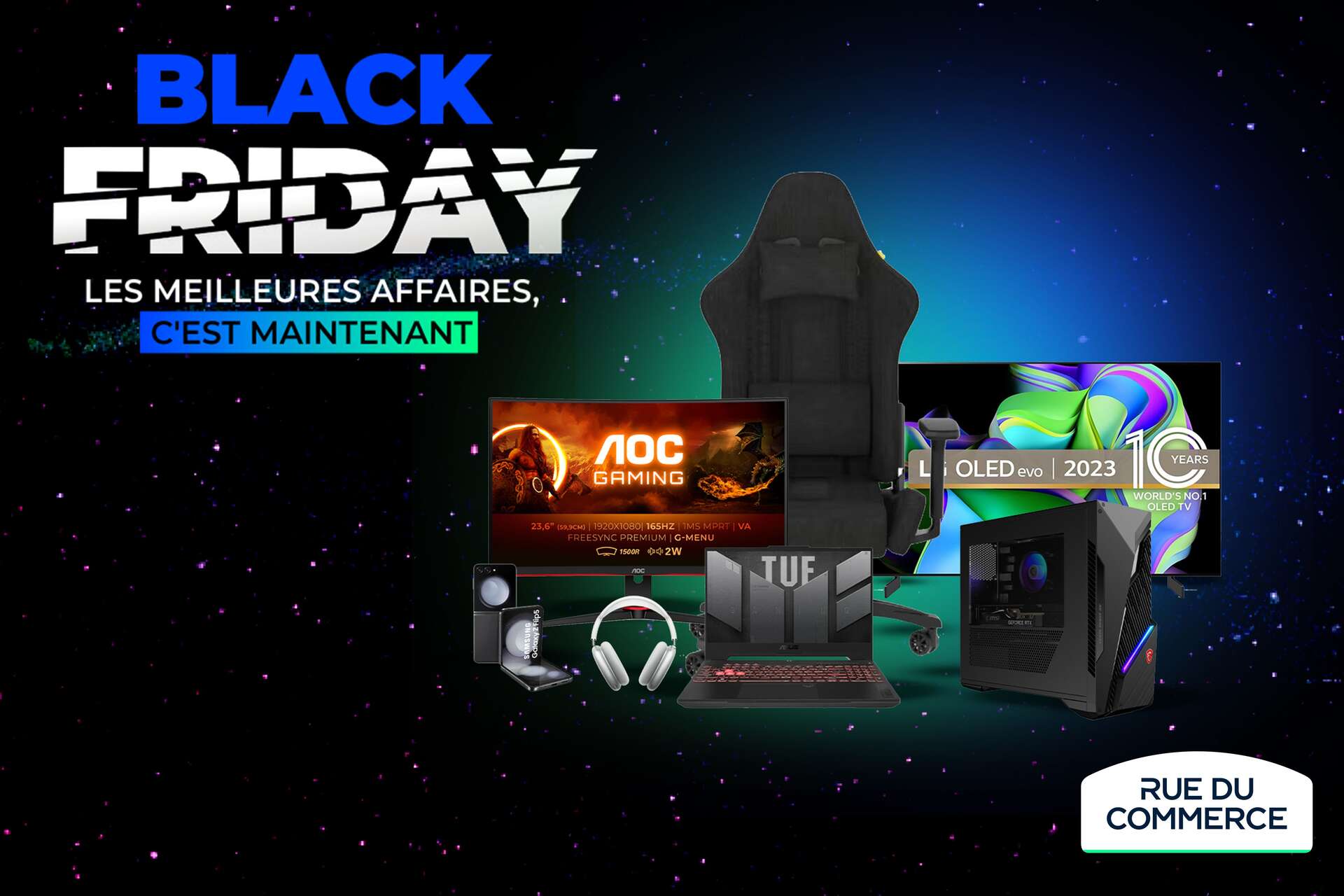 Black Friday starts at Rue du Commerce with discounts on many products in all areas of the site. Black Week is an opportunity to take advantage of the best offers in advance.
Do you want to show off your gaming skills? Gaming laptops and components are on sale during Black Week in the Rue du Commerce. Discover our selection of the best products.
Our selection of "IT" offers in Black Friday preview
If Black Friday is one of the most anticipated shopping events, it's no coincidence. The offers are particularly interesting, especially in the Rue du Commerce, as shown in this selection of articles.
MSI has made a name for itself in the laptop market thanks to its high-performance models, especially for gaming. Black Week is your opportunity to offer one of the brand's technological gems with a 12% discount. The Katana 15 B12VFK-244XFR portable PC is priced at €1,149.99 instead of €1,299.99, a saving of €150. This computer is equipped with a 15.6″ IPS panel with Full HD resolution and 144 Hz refresh rate. It will provide you with an optimal immersive experience thanks to Nahimic 3D surround technology. In terms of performance, you will not be disappointed: it has the 12th place. The generation Intel® CoreTM i7-12650H processor, complemented by the NVIDIA® GeForce RTXTM 4060 graphics card with 8 GB of dedicated memory. It benefits from a large capacity with 16 GB of memory and an SSD of 512 GB.
Asus TUF Gaming A15 Portable PC
The most demanding gamers will find what they are looking for in Asus thanks to the performance of the TUF Gaming A15 507RW-HN059W laptop PC. This model benefits from a 12% discount, bringing its price down from €1,299.99 to €1,079.99. Equipped with an AMD Ryzen 7 6800HS 6000 series processor and NVIDIA GeForce RTX 3070 Ti graphics card, it combines quality graphics and optimal performance. Its 1TB SSD ensures ultra-fast loading of games, while its 15.6″ 144Hz screen guarantees an incredible gaming experience.
Corsair 4000D Airflow PC Case
Rue du Commerce offers this white PC case with window, a sturdy, elegant model for you to set up your own computer configuration. Black Week is your opportunity to snag it at €179.90 instead of €209.90 thanks to a 16% discount or a savings of over €32. The Corsair 4000D Airflow PC case features a reinforced cooling system, with 2 pre-installed 120mm AirGuide fans. 4 more fans can be installed there, but there are also 2 SSD support and 2 HDD support. Its property? It is compatible with various motherboard formats: Mini-ITX, Micro-ATX, ATX and E-ATX.
Corsair Vengeance 2x16GB PC Memory
Corsair's Vengeance proves to be a real performance booster for your computer. During Black Week, these two 16 GB memory sticks, or a total of 32 GB, are offered for €114.90 instead of €129.90, or a 12% discount. This PC memory utilizes a 288-pin DIMM format that provides an exceptional memory frequency of 5,600 MHz. You will receive unparalleled performance while benefiting from a reliable, durable product offered by the Corsair brand. Its beautiful design is a real asset to adapt to any type of configuration.
Find many Black Friday offers on Rue du Commerce
-12%, -20%, -36%, -43%… Great deals are waiting for you all week long on Rue du Commerce for Black Friday! Enjoy discounts on a wide selection of items during this long-awaited period. From electric scooters to vacuum cleaners, including the latest QLED TVs: it's time to pamper yourself, and why not, start thinking about the gifts you want to put under the tree. Don't miss any Black Week deals by visiting the Rue du Commerce website.
Computer enthusiast or gamer, Rue du Commerce has some nice surprises for you during Black Week. Take advantage of the current offer immediately to equip yourself at a low price!